Read CAEL's message to our community about COVID-19.
The COVID-19 crisis is forcing us all to think and operate differently in how we support adult learners. Although we don't know how or when this crisis will end, it's clear that the pandemic is accelerating already existing trends in postsecondary education and workforce development that are central to CAEL's mission. Below are information and other resources that may be helpful to the CAEL community as it supports adult learners during the pandemic. We will update this page with new information as it becomes available. If you have suggestions for other resources to share with the CAEL community, please let us know at cael@cael.org.
We look forward to continuing to support your efforts and the success of the adult learners we all serve.

Recent Articles and Other Publications
California Universities to Endure 10% State Budget Cut After COVID-19
Amid budget cuts, colleges urged to "get creative," expand use of credit for prior learning to increase student access and equity.
Coronavirus Complicates an Already Tricky Balancing Act for Adult Learners
Offers a compelling narrative of some of the challenges adult learners face amid the COVID-19 pandemic.
Public Viewpoint: COVID-19 Work and Education Survey
The Strada Center for Consumer Insights is conducting weekly tracking of how education consumers perceive COVID-19's impact on work and postsecondary education. Visit its website for the complete series of surveys.
Key findings through Aug. 26, 2020
Survey respondents continue to favor nondegree and skills training as education options.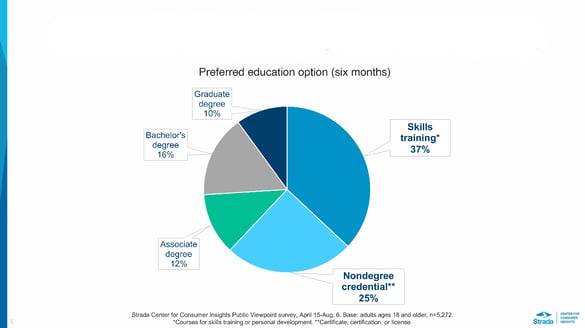 Regardless of their preferred mode of education, relevance (required/relevant in chosen field of work, better fit for personal needs) was the top factor for their choice.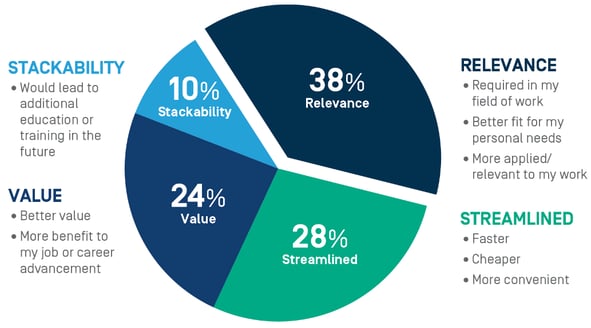 Around 20 percent of survey responders continue to indicate they have plans to enroll in some type of education program in the near future.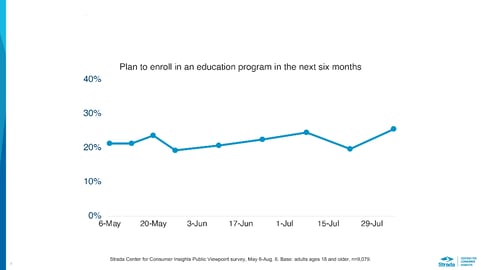 However, when it comes to career preparation, most Americans feel in-person learning may have an advantage.
AACRAO, ACE Survey Finds Uncertainty About Current College Student Fall Enrollment Plans, Optimism About Completing Spring Coursework
This survey covers student plans for fall enrollment.
College and University Presidents Respond to COVID-19: April 2020 Survey
An ACE survey of college presidents reveals concerns over summer/fall enrollments.
If your institution also enrolls recent high school graduates:
Impact of the COVID-19 Pandemic on College-Going High School Seniors
CAEL's focus is working adults, but we know that many of our members and partners are also focused on students coming straight from high school. This Art & Science Group report offers insight about how the pandemic may be shaping fall enrollment decisions.
How to Excel During COVID-19
With many high school graduates considering delaying their college plans, institutions are bracing for a massive reduction in enrollment in the next academic year. Pivoting to remote learning and effectively recruiting, serving, and retaining working adult learners will be more important than ever. Click here for additional resources from CAEL that can help your institution adapt within the rapidly changing postsecondary landscape, from strengthening strategic partnerships with employers to effectively leveraging prior learning assessments to better serve diverse learners.