Now in its 48th year, the CAEL Annual Conference is widely known as the place for leaders to connect with experts from postsecondary education, workforce and economic development, and industry.
Join us in beautiful downtown Chicago, at the Palmer House Hotel, for the 2022 CAEL Annual Conference this November! The CAEL conference is a unique opportunity to learn from educators, employers, and community leaders focused on aligning learning and work so that adults achieve continuous economic advancement. It is an exciting hybrid experience to accommodate both in person and virtual participation, held in accordance with all local and national safety regulations. You'll have a unique opportunity to meet the best minds in adult learning, inside and outside of postsecondary education.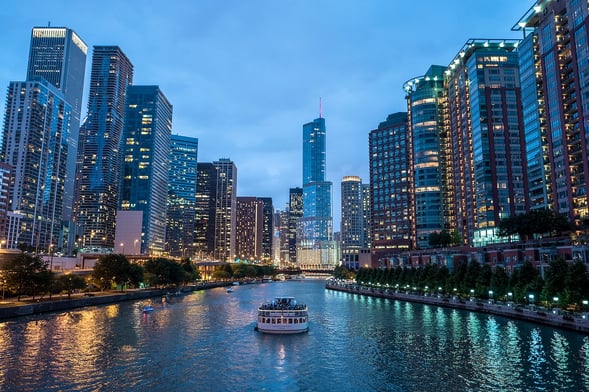 Who Should Attend?
Attendees share a desire to improve the connections between education and career that drive adult learner success and equitable economic growth. With over 1,000 attendees at CAEL's 2021 Hybrid Conference, we're building on the momentum for 2022, when we'll again bring together adult learning leaders from postsecondary institutions, workforce and economic development, and other organizations working to support and serve adult learners.
"The CAEL conference convenes forward thinking professionals in higher education and workforce development. A must attend conference for participants interested in connecting bridges for all learners and lifelong learning" -Evelyn Fernandez-Ketcham Executive Director, Workforce Development
"The benefits that I receive from our CAEL membership and from attending CAEL conferences are beyond compare. Whether it is a small scale pilot project or a large campus wide initiative, if it is for our adult learners I know that CAEL has the research, expertise and professional network that will help me ensure the success of our project." -Tracy Robinson, Director, Innovative Academic Initiatives, The University of Memphis
These are the typical attendees at CAEL's annual conference:
Adult Learning specialists and advocates
Workforce Boards, Chambers of Commerce & Economic Development organizations
Leaders or practitioners of accelerated programs (i.e. 8-week) and/or online learning programs
Employers investing in workforce education & training
Prior Learning Assessment faculty and administrators
Those interested in Competency-Based Assessment
Government, labor, business, and educational professionals involved in workforce development programs and policy
Executives and managers of nonprofits and community-based organizations working with adult learners
Individuals involved in issues related to skills standards and employability
College representatives interested in creating a more adult learning focused institution
Human resource development and training professionals
Continuing education professionals


Subscribe to 2022 Conference Updates

Let's bridge the gap between education and the workplace with linking learning and work to fuel economic mobility and community prosperity.

Earl Buford
President
CAEL
Registration Now Open
Whether you prefer to join us in person in Chicago, or virtually, the conference is an opportunity to learn from leading minds across the entire work-learn ecosystem.
Sponsor the Conference
Every year, we're fortunate to have an amazing lineup of sponsors who are enthusiastic about getting their message in front of the most engaged audience of post secondary leaders, workforce dynamos and HR rockstars for synergy.