The annual CAEL Conference is widely known as the leading place for leaders to connect and network with industry experts from postsecondary education, workforce and economic development, and industry.
Our 49th annual conference will take place in Baltimore, MD at the Hilton Baltimore from November 8-10, 2023.
The CAEL conference is a unique opportunity to network with and learn from educators, employers, and community leaders focused on aligning learning and work so that adults achieve continuous economic advancement. You'll have a unique opportunity to meet the best minds in adult learning, inside and outside of postsecondary education.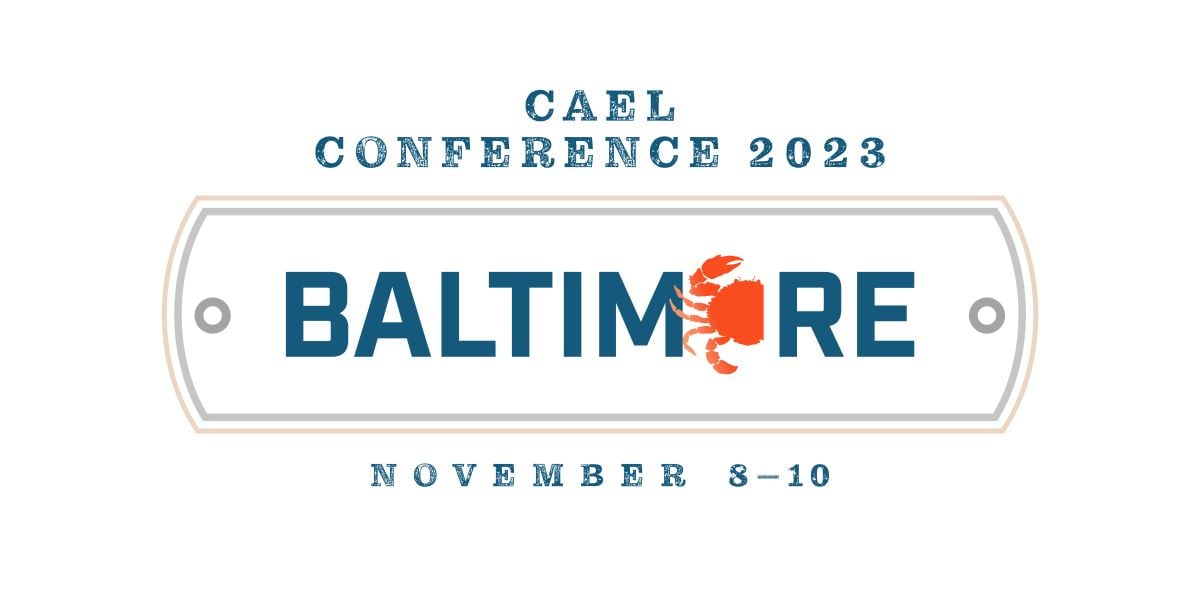 Call For Proposals
CAEL is now accepting proposals from individuals and institutions interested in presenting at our annual hybrid conference November 8-10, 2023 in Baltimore and online! Presenters will have the opportunity to share their expertise with a diverse audience of thought leaders from throughout the education-employment ecosystem. Our attendees represent workforce and economic developers; postsecondary educators; employers and industry groups; and foundations and other mission-aligned organizations.
All session proposals must be submitted by March 31, 2023. We will notify selected presenters in June.
Subscribe to 2023 Conference Updates
2023 CAEL Awards
The 2023 CAEL Awards will open for nominations in early 2023. Being recognized as a CAEL Annual Award winner is a mark of distinction! CAEL strives to honor the work of individuals, institutions and programs that commit to adult learner excellence, innovation and impactful, outstanding programs.
We welcome nominations for our four awards that honor excellence through key lenses in the adult learning experience. Our shared mission prospers when we recognize and encourage individual, organizational and institutional excellence in supporting adult learners. Every day, you see their work in action and no one is more qualified to identify the latest heroes than the CAEL community.
Learner of the Year
CAEL's Learner of the Year is a lifelong learner who has successfully navigated the winding path that adult students face on the road to meeting their educational goals. We present the award to an individual who has overcome multiple barriers and has successfully returned to a learning environment. In doing so, we not only recognize and celebrate the individual learner and his or her own commendable achievements, but also those of the millions of other adults striving for excellence in higher education.
Morris T. Keeton Award
CAEL established the Morris T. Keeton Award in 1989 to honor our founding president for his independent voice for innovation and improvement in education. We present this award to a leader who is committed to making experiential learning an integral part of education, to increasing access for adult learners and minorities to postsecondary education, and to improving the theory and practice of assessment, teaching and learning.
Pamela Tate Rise Award
This award, named after the former longstanding CAEL president, recognizes those who forge connections between higher education and the workplace with incredible tenacity, enhancing both the lives of adult learners and our nation's workforce. We present this award to an individual who has forged important connections between education and the workplace in support of adult learners.
Adult Learner Impact Award
CAEL presents the Adult Learner Impact Award to recognize institutions and organizations that have provided outstanding programs and services for adult learners. It recognizes the significant impact institutions and organizations create for adult learners and embodies CAEL's vision that "Every adult has a pathway to lifelong learning and meaningful work."

Let's bridge the gap between education and the workplace with linking learning and work to fuel economic mobility and community prosperity.

Earl Buford
President
CAEL
Sponsor the Conference
Every year, we're fortunate to have an amazing lineup of sponsors who are enthusiastic about getting their message in front of the most engaged audience of post secondary leaders, workforce dynamos and HR rockstars for synergy.