Back to all
Chaos and Adjustments in Higher Ed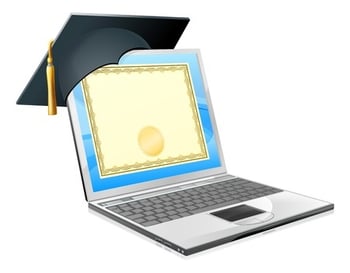 There was a time, not too long ago, when moving into the freshman dorm was a rite of passage. Your fellow fresh-faced students might be highly diverse as to hometown, ethnicity, faith, experiences and socioeconomic status, but you could be sure there was one thing all would have in common: Everyone would be about 18 years old, straight out of high school.
Today, higher education is decidedly different. The student sitting next to you in freshman English or at the next lab table may well be 35 - or 65 - years old, have children (or grandchildren), and work full-time at a successful or second career.
While funding for a college degree once came from Mom and Dad or student loans, today it is just as likely that a student's tuition is being paid for by an employer.
Thousands of college students will never have to unpack a suitcase or sit in a packed lecture hall. Many will rarely be seen on a campus. It is just as likely that their classroom will be a laptop on a kitchen table, a tablet on a commuter bus or a smart phone in the employee break room. Online learning is open 24/7, allowing students the freedom to study wherever and whenever convenient.
Self-paced e-learning, massive open online courses (MOOCs) and assignments emailed to distant instructors for their evaluation have rapidly become as ubiquitous as TV ads hawking degrees designed for those with already demanding careers.
The rapid pace of technological change means that hiring college graduates is not a guarantee that the payroll will be occupied by employees with the right skills.
It has been argued that the most valuable skill learned in college is how to learn. But remaining competitive in industry requires learning to be a continuous process. It makes sound financial sense that employers are increasingly encouraging employees to pursue additional education, whether it's a course, certificate, degree or advanced degree.
It can be a win-win situation when employees realize that further education is needed to get ahead and their employers incentivize efforts to learn new skills by paying part or all of an employee's tuition.
For colleges and universities, the electronic education revolution means that fewer resources need be devoted to campus-bound amenities or even academic buildings. Instead, the challenge for institutions of higher education is to shepherd students through to graduation in an environment of online learning that may prove a difficult transition for those whose previous schooling consisted of sitting in a classroom.
While some students are self-motivated, many more find the paradigm shift inherent in self-scheduling to be a daunting challenge. For example, it was recently reported that 90% of students registering for MOOCs fail to complete them. The competing imperatives of careers and families, for example, can be overwhelming. Online student counseling, anyone?
One approach to these challenges is to reduce the coursework needed to graduate by giving students credit for skills learned on the job. Competency-based education (CBE) is a benefit to employers because it often allows them to obtain credentialed employees relatively quickly.
The return on employer investment can be high (obtaining the latest technical skills, improving retention rates, reducing the need to recruit, hire and train), incentivizing the adoption of tuition reimbursement programs.
It should come as no surprise that student-employees feel their greatest cheerleaders are not on a football field, but in the executive suite.