Back to all
How Women May Hold the Key to Solving Manufacturing Skills Gap Woes
According to the Bureau of Labor Statistics, last year women represented 47 percent of the U.S. labor force, yet only 29 percent of the manufacturing workforce. Meanwhile, six out of 10 manufacturing positions are unfilled owing to a skills gap that exists throughout the industry.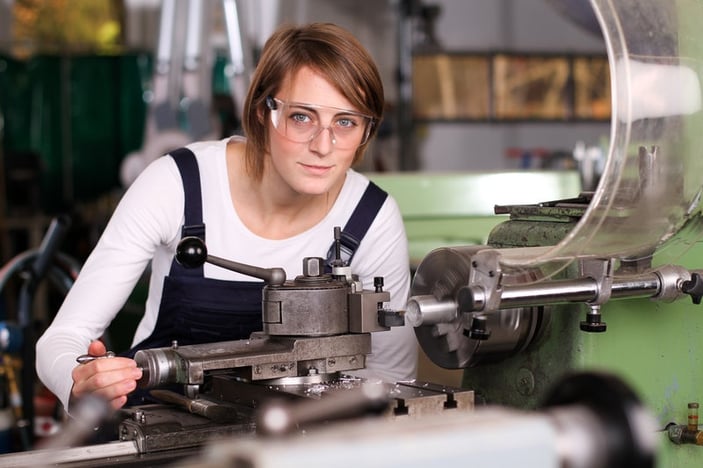 With such a significant population of untapped talent available to the industry, it's easy to see why managers, who are often forced to make tough decisions thanks to the diminishing pool from which to draw suitably skilled talent, might look to women to strengthen the workforce. Yet as evidenced by the low number of women in manufacturing, finding enough women who might be interested in the industry is difficult.
Recently, Deloitte published a study (PDF) that assessed the state of women in manufacturing, including the opportunities they have to evolve the industry and the challenges that must be overcome in encouraging their participation in it. The study, which incorporates findings from a survey of more than 600 women in manufacturing, highlights the importance of increasing the visibility of the industry for prospective women employees.
The study draws attention to both recruitment and retention efforts for female talent, as well as retention drivers and perceived gaps that may stifle interest in the industry. Together, the data and different perspectives from women in the manufacturing industry shared by the study provide a valuable look at how an industry can evolve to both meet talent needs and encourage greater diversity of its workforce.
To review Deloitte's study, "Women in Manufacturing: Stepping up to make an impact that matters," click here.
CAEL's Workforce and Economic Development team is solving skills gaps in industries throughout the country. Learn more about how the team is connecting economic development goals with local workforce development initiatives here.