Back to all
Mapping Higher Education's Future
Scott Campbell
/ March 11, 2016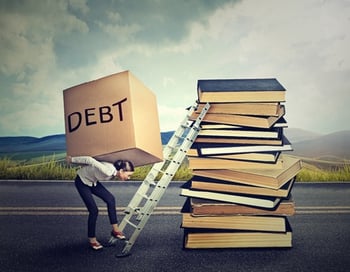 Early in his first term, President Obama set an ambitious goal for the nation — become the country with the highest percentage of college graduates by 2020.
As the halfway point for the initiative has passed, it is time to review the progress. First, however, it might be helpful to clarify exactly what will be required to achieve the president's goal.
When the goal was established, slightly more than 40 percent of all Americans over 25 held some type of postsecondary degree. Since the goal was established, the rates have been creeping up at a pace of less than 1 percent annually. If this trend continues, the overall number will be less than 50 percent —insufficient to achieve the goal.

And, as of 2010, several nations had already surpassed the United States in the number of people possessing postsecondary credentials. Canada, for example, was at 50 percent, and Israel and Japan were at 45 and 44 percent, respectively. America also did not compare favorably in terms of the number of students who completed their degrees. A Harvard study in 2010 reported that only 46 percent of American students completed their degrees. In Japan, the study reported that the number was 89 percent, and it was 63 percent in Slovakia and 61 percent in Poland.
Since these other nations are not going to remain stagnant between now and 2020, the possibility exists that the gap between them and the United States will be at least as great when the decade ends.

This does not mean there is no good news to report. According to the Bureau of Labor Statistics, 68.4 percent of those graduating high school in 2014 were attending college by October, an increase of 2.5 percent over the previous year. Approximately 90 percent of the 2014 high school graduates were attending full time, but tellingly, 37.9 percent were either employed or actively seeking employment. Among adult learners, more than 60 percent held part-time or full-time jobs.
Several surveys have been conducted over the last five years to determine why students are failing to complete their educations. Time and again, the response involved the costs. One study found that 41 percent of the adult learners surveyed cited financial problems as necessitating dropout. Among students of all age groups, 70 percent stated that they quit studying to earn a living, citing the cost of tuition and the difficulties of juggling work with classes.

Regardless of whether the nation achieves the president's goal, the initiative has focused attention on areas in which the Higher Education system could be improved. More attention is being paid to the special needs of adult learners, and many institutions have made great strides, such as greater availability of classes on weekends or evenings, on-campus child care, and courses that offer at least some online element. Many institutions need to initiate or expand efforts in Prior Learning Assessment and Competency-Based Education.

Adaptations will not be enough to meet the president's goal if the issue of ever-rising tuition costs are not addressed. The challenge was made at a time when the economy was already struggling, causing many state and local governments and private employers to cut spending dramatically. A recent study based on UNESCO's educational statistics revealed that no nation requiring tuition up front as in the United States had a gross graduation rate exceeding 50 percent. Tuition reform may be the only way America can reclaim its status as the best-educated nation in the world.