Back to all
New Paths to Education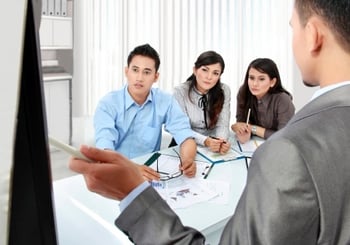 As education levels in the nation's workforce drop, proactive businesses are taking steps to close skill gaps.
In the United States, the number of high school graduates who immediately enroll in college or other higher education programs has declined dramatically in the last 20 years. The reasons given most often include skyrocketing tuition, unwillingness to take on debt, urgent financial needs requiring full-time work, and the perceived inability to successfully balance work and studies.
At the same time the number of students who pursue education right out of high school declines, the retirement of highly qualified workers is causing serious skill gaps for employers. On top of that, companies are struggling to find ways to help employees stay abreast of new technologies and shifting markets.
Businesses that continue to thrive in today's world take a proactive stand to address skills gaps, market changes and new technologies. By doing so, they strengthen their companies and position them to grow.
A major strengthening move is to offer each employee in the company the opportunity to gain additional skills that have the potential to benefit both the employee and the employer.
Some companies reimburse employee tuition for those who chose to attend college full-time. An online article in the Houston Chronicle recently explained existing tax breaks for employers who assist their workers with tuition and other expenses. Certain educational assistance benefits are also tax-free to the employee. For more information, see IRS Publication 970 - Tax Benefits for Education.
And, it has never before been so easy to find adult-education offerings to fit the needs of companies and their employees. Help is readily available. The Council for Adult and Experiential Learning, a nationally recognized nonprofit organization dedicated to helping employers and employees connect learning and work, offers a wealth of useful information, including publications, webinars, video recordings and live assistance.
Success stories point out the fact that most every worker craves the opportunity to learn. Lifelong learning keeps adults motivated, energetic and enthusiastic. If companies encourage employees in their efforts, and if the adult education that employees receive provides new skills that they can apply at work, production and efficiency increases.
Further, when employees feel needed and appreciated, and when they can see that there are ways for them to learn new things and to advance within the company, they are less likely to change jobs.
Make career options transparent to employees so they are able to visualize a future with your company. Interactive career maps keep employees informed and clearly show them the steps and education needed for lateral and upward moves. They are also great tools for managers to use when having career-directed conversations with their employees.
A second step employers can take to promote an atmosphere of educational encouragement is to offer career and education advising to employees. Advising helps your employees make wise career decisions within your company and take the most efficient and cost-effective path to get there.
Reducing employee turnover saves money and protects a company's image and future.