Back to all
The Changing Landscape of Higher Education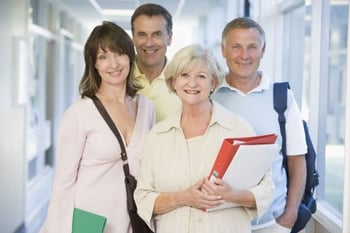 Not so many years ago, college campuses were dominated by students aged 18 to 22 who enrolled right after high-school graduation. Students pursuing advanced degrees were few in number and only slightly older.
Of these under-29-year-olds, the vast majority were financially dependent upon parents. Most were unmarried and almost all childless.

Today, that traditional profile accounts for only 16 of the typical full-time campus body. The rest have been termed "non-traditional' students, usually defined as having at least one of these characteristics:
Attends school part-time - fewer than 15 credit-hours per semester
Works at least 35 hours per week
Either did not enroll immediately after high-school graduation or did not earn a high-school diploma
Is not considered dependent according to financial aid guidelines
Has at least one non-spouse dependent
In fact, it is not uncommon to find students possessing all of these characteristics.

Some 58 percent of today's students are older than the "traditional" age, and roughly 40 percent attend school part-time.

A recent study found that although people between 25 and 44 increased 1 percent in the population, the age group accounted for a 50 percent increase in enrollment in some aspect of Higher Education. Simply stated, the non-traditional student is rapidly becoming the traditional norm at campuses across the nation.

To meet the demands of these students as well as the demands of an ever-changing job market, schools have been forced to evolve. Degree plans have become more career-focused, requiring fewer courses in humanities, arts and related areas. Registration processes have become more flexible to accommodate working adults who might not be free during "normal" daytime school hours.

Online classes have become more available, and fully accredited online schools have proliferated.

Schools have also changed their terminology. It has become standard to refer to associate or bachelor's degrees, rather than two-year or four-year degrees. Referring to a degree only by amount of time to complete it leaves an accuracy gap when it comes to "non-traditional" students.

The increase in adult learners is of particular significance to corporate executives and other industry leaders. Current projections are that by 2020, only one-third of the nation's jobs will be available to those with only a high-school education.

The overwhelming majority of jobs will require a college degree or a certificate from a formal, accredited training program.

Consider that in 2012, fewer than 40 percent of adults between 25 and 64 held an associate or bachelor's degree. This is a strong indication that an ever-widening gap exists between the needs of businesses and the pool of talent.

Businesses will find themselves forced to "grow their own" talent through educational incentives and adult-learning initiatives to help employees acquire the necessary skills. The longer they wait to embrace such initiatives, the longer it will take them to reap the benefits.