Back to all
What's New in Higher Ed This Year
Scott Campbell
/ January 21, 2016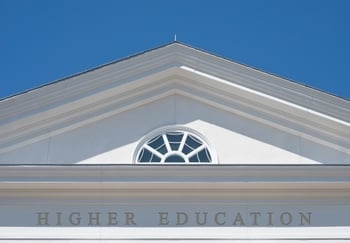 Quick, what images come to mind when you think of college?

A leafy quad, cavernous lecture halls, football games and fraternities? Probably not. Thousands of students are now taking their college courses online while balancing the demands of work and family.
They may well be closer to retirement than to being teens in letter sweaters.

How about four years of full-time college attendance and residence, ending with a bachelor's degree? Maybe not.
A growing number of college students are adult learners who are being bankrolled not by student loans but by corporate tuition-reimbursement programs. An associate's degree may come before the B.A., with students parlaying that into a four-year degree with the aid of credit for work and life experience.
Or there may be no degree in the picture at all. The person next to you on the subway grinding away at college-level assignments on a tablet may be working on obtaining a certificate or a skills competency in order to qualify for advancement at work. The only contact with the professor may be regular email.

Welcome to Higher Education in the 21st century – there may not be a football or pom-pom in sight.
Hang on, it's going to be a bumpy ride!

So what can we expect in 2016? Here are some high points of the brave new world of adult learning:
MOOCs. Massive online open courses are typically introductory courses - from calculus and computer science to sociology and philosophy - that are pre-recorded by instructors for laptops and iPads around the world. MOOCs have been in the news lately because they have grown vastly in popularity. Because they are used over and over again, economies of scale make them cheap for universities and relatively inexpensive for students.

Some MOOCs, such as a selection offered by Harvard University through edX, may be audited tuition-free. Those just starting out on their paths to a degree can often skip the lecture hall and accrue credits for a fee for a significant portion of the freshman year by completing MOOCs after they put the kids to bed or in the employee break room.
Boot camps. No drill sergeants screaming in your face here. Coding boot camps for burgeoning programmers are an example of skills-focused competency based education (CBE) that is rapidly becoming a hot item with employers in need of specific types of technical know-how. Boot camps are appealing to adult learners just want to obtain the skills they need to advance in their careers.
Nanodegrees. No, you won't find these on a thermometer. Like boot camps, nanodegrees are among the latest permutations of CBE. They typically involve certificates of competency that are earned in compact time frames (think months rather than years), allowing participants to gain desired skill sets in a fraction of the time required for completion of a traditional degree. Skills that increase employability and earning power are now the name of the game.
Pre-enrollment credits. Earning academic credits only after spending time at college is so 20th century. High school students can now take full college classes online before they ever step foot on campus. This comports with the current trend toward prior learning assessment — giving students college credits for what they already know.
International opportunities. Spending a year studying abroad has been part of many students' academic experience for years. What better way to become steeped in the language and culture of another country? Well, these days, it is foreign students who wish to attend college in the United States, both for the internationally renowned quality of American higher education and to hone their English language skills.

New challenges for colleges range from evaluating foreign secondary-school transcripts to ramping up ESL programs to providing counseling toward reducing the stress and culture shock that may come with crossing oceans and continents to obtain a college education.
Amidst the political and financial uncertainty that has become the norm, we can confidently predict that the only constant will be an atmosphere of change. Improvements in technology, our shrinking world and partnerships between colleges and employers will continue to suggest innovative approaches to higher education in 2016.