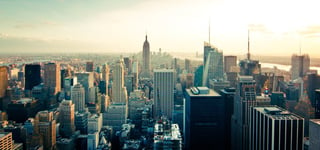 As we reported last month, CAEL has partnered with JPMorgan Chase to create a powerful new platform to help New Yorkers gain insight into the 7,500 positions in the area's lucrative financial services sector: BankingOnMyCareer.com.
The positions BankingOnMyCareer.com highlights are part of an industry that has seen job growth rise by roughly six percent since 2010. Moreover, many of the positions require training below the undergraduate level, creating meaningful career opportunities that are obtainable by many New York jobseekers.
Leveraging CAEL's extensive experience creating career paths and offering industry specific insight into the skills and knowledge needed for high-demand roles, BankingOnMyCareer.com will reach a range of potential employees as diverse as the city they call home, said CAEL President and CEO Pamela Tate.
"The financial services industry is thriving, giving those just entering the workforce a perfect opportunity to start their careers," said Tate. "BankingOnMyCareer.com will open the door to a number of rewarding career opportunities that are suited to a diverse range of education backgrounds and career aspirations."
BankingOnMyCareer.com continues in the tradition of other CAEL-backed career platforms like COCareerActionTools.com, Vividfuture.org and PetrochemWorks.com.
Learn more about how CAEL is helping build a stronger workforce by clicking the button below.