Exploring the Intersection of Adult Learning and the Workforce
There's no way around it: To meet the rapidly evolving needs of today's businesses and strengthen our nation's workforce, it's vital that adults have access to continued training and education opportunities. Increasingly, employers are rightly recognizing that regional colleges and universities are not only a source of potential future employees, but also places to provide upskilling opportunities for current employees. Likewise, higher education institutions, facing nationwide flagging enrollment rates from so-called traditional students, realize that they must reach into previously untapped demographics of potential students, such as working adults.
Of course, it's not enough to merely bring stakeholders that represent both of these sides to the table. That's why institutions around the country are employing both new and familiar strategies to link learning and work.
Employer-Higher Education Partnerships in Action
Late last year, the Federal Reserve System's Investing in America's Workforce initiative released a three-volume book series, titled "Investing in America's Workforce: Improving Outcomes for Workers and Employers." The series, which was made available for free download and can be found here, combines analysis on how to create more effective workforce and economic development strategies from more than 100 contributors.
One such contributor was Wilson Finch, CAEL's director of higher education services for workforce and economic development. His contribution, "Activating Prior Knowledge and Acquiring New Skills," provides a thoughtful overview of the methods of learning that are suited to adult students' unique needs and attributes—like prior learning assessment (PLA) and competency-based education (CBE)—and it also shares examples of employers, industry associations, chambers of commerce and higher education institutions coming together to build effective learning opportunities for adults.
The current conditions that prevent skills gap remediation, Wilson says, can be broken down into three categories:
"The deficit of skilled workers is being exacerbated by three tendencies within industry and education: 1) neglecting to effectively engage substantial proportions of potential workers (particularly adults and nontraditional learners) in efforts to combat the deficit, 2) failing to adequately capture and validate existing learning possessed by those workers and apply it to their current and future jobs, and 3) inadequately aligning credentialing outcomes with the verifiable needs of employers, workforce and economic development goals, and industry sectors."
To read "Activating Prior Knowledge and Acquiring New Skills," click the button below or click here.
Strengthening the Pipeline from Higher Education to Work

In November, CAEL's Jade Arn, director of workforce and economic development, spoke with ECMC Foundation to discuss CAEL's progress with a two-year study to determine ways to effectively increase the adult learner pipeline into postsecondary education in four selected sites.
In her conversation, Arn details the tremendous opportunity PLA gives to higher education and workforce stakeholders in encouraging adult postsecondary educational attainment. To read the ECMC Foundation Q&A, click here.
To download the recently released paper that highlights results from that study, Linking Public Workforce Systems and Community Colleges through Prior Learning Assessment, click on the image below.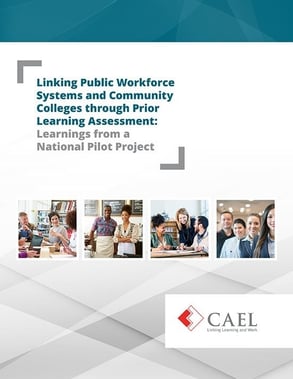 Prior Learning Assessment and Workforce Boards
In October, the National Association of Workforce Boards (NAWB) hosted a webinar led by CAEL's Jade Arn, "Prior Learning Assessment: Impact and Implementation," that provided another affirmation of the value and effectiveness of PLA as a learning strategy to encourage employee upskilling. The webinar featured an overview of the ECMC Foundation-funded PLA white paper CAEL developed in partnership with NAWB, "Examination of Prior Learning Assessment (PLA) As Strategy for Achieving Workforce Development System Success." Both the webinar and the report that informed it provide an overview of PLA, details about how a workforce board has used PLA and information concerning what the future of PLA may look like in the context of workforce and economic development.
For anyone interested in learning more about PLA, watching the webinar is worth your time.
To view a recording of the webinar, click the button below or click here.