View the archived webinar on multimodal courses. Multimodal courses are courses which use both synchronous and asynchronous modes of instruction and present unique opportunities for course design, facilitation, and support. This interactive webinar explores best practices for classes that combine synchronous and asynchronous elements, emphasizing the range of options that exist to foster student engagement and success.
Learning outcomes:
Describe the relationship between design, facilitation, and student support, and explain how to thoughtfully incorporate synchrony and asynchrony in service of each.

Evaluate best practices for design, facilitation, and student support in multimodal courses and select applications that align with course goals.
Speakers:
Leanna Duncan, Associate Director of Faculty Engagement, Everspring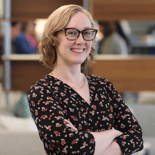 Leanna is an Associate Director of Faculty Engagement at Everspring, supporting faculty at partner institutions in facilitating their online courses from training to troubleshooting to resource creation. She specializes in supporting multimodal courses. Prior to her time at Everspring, she received her PhD in history from the University of Illinois at Urbana-Champaign, focusing on disability activism and education in the early twentieth century US. During her time there, she designed and taught history courses as well as supported others' teaching as a graduate affiliate at the Center for Innovation in Teaching and Learning. She also holds a BA and MA from the University of Tulsa.