Regional Upskilling Alliance
The Regional Upskilling Alliance (RUA) is an initiative that aligns partners in a region, empowering them to work together to help adult learners – across their entire education-to-employment journey. This includes supporting adult learners as they navigate learning opportunities and credentials, obtain living wage employment, and continue to advance in their careers. Working as one entity and bringing together the members' respective strengths and expertise, RUA will develop a replicable model that can assist adult learners no matter where they are along their career path.
RUA will be piloted to assist low opportunity populations in the city of Pittsburgh, Pennsylvania and the surrounding Allegheny region. In Allegheny County, 30.4 percent of workers with less than a high school degree live below the poverty level. For workers with only a high school degree, 14.5 percent live below the poverty level as well.
Upskilling this specific population could have significant impact on the region – moving these workers to educational attainment could improve the economic position of tens of thousands of workers, potentially moving over 7,700 workers from below a high school degree to having a diploma equivalency and some postsecondary training. It could also mean building skills and credentials for over 24,500 workers with no training after high school.
Partners
With the goal of unlocking the potential of more workers, especially those who are overlooked, by providing better connections to skill-building, education, and good-paying jobs, the national RUA Initiative is comprised of the following partners:
In Pittsburgh, our regional partners are Vibrant Pittsburgh, Catalyst Connection, and Pittsburgh ScholarHouse, with their close partner, the Pittsburgh Council on Higher Education (PCHE). Vibrant Pittsburgh's mission is to build a thriving and inclusive Pittsburgh region by attracting, retaining, and elevating a diversity of talent. They have a membership of well over 100 employers and regularly engage with thousands of diverse job seekers. PCHE is the local association of regional higher education institutions. The Pittsburgh Scholar House is a newly launched non-profit affiliate of the Family Scholar House, dedicated to using two-generation strategies to disrupt the cycle of poverty by enabling post-secondary educational attainment.
How it Works
Talent and job seekers enter the pipeline via various groups such as American Job Centers, community-based organizations, recruiters, job boards, and educational institutions. In an ideal world, talent comes out on the other side of the pipeline, gainfully employed. But because of the various interactions talent can have while in the pipeline, the occurrence of life events, and a lack of data sharing, the pipeline typically develops leaks. With so many groups playing hands-on roles and scarce communication between them, there's very little awareness that the leaks actually exist.

Worker/Learner Journey — Ideal State
The RUA partners have come together to surface career pathways, offer credit for prior learning, and direct learners to supports along their journey. But they also intend to enhance data interoperability for all groups impacting learners and job seekers, with the vision of a "live dashboard" that can track decisions and steps made in learning and career journeys, leading to visibility into which trainings and supports are leading to good jobs and upward mobility.. By increasing communication and visibility, RUA's vision is to enable groups to:
Expand their reach to populations that are underserved due to limited resources or capacity.
Provide access to human-centered solutions that meet workers where they are and empower them to continue on their journey to a better life.
Further mobilize employers and skill development partners to provide clear pathways for workers.
Greater enhance workers' sense of choice and voice in making career and skill development decisions.
Enhance the ability to capture data on the impact of initiatives, services, and skill development.
Ensure workers have the means, opportunity, and wherewithal to thrive and succeed.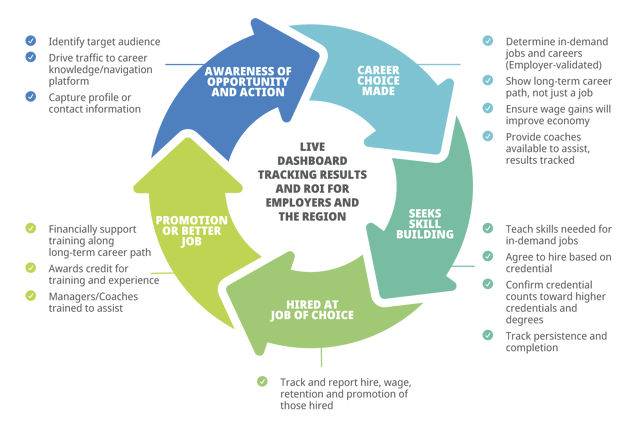 By offering an end-to-end solution and tracking the learner journey — from initial outreach, to training, to educational attainment, and ultimately to employment — RUA can offer tactical opportunities to upskill, needed support and services, higher rates of job placement because of alignment with employer demand, and improved economic growth for the region.
To learn more, download this overview, or contact Beth Doyle at bdoyle@cael.org