U.S. Department of Education & CAEL
Connected Pathways
About the FIPSE Grant
In January 2021, CAEL began working on its Connected Pathways program, funded in full by a $4.9 million grant from the U.S. Department of Education's Fund for the Improvement of Postsecondary Education (FIPSE), which encourages holistic solutions for improving access to postsecondary education. The CAEL-led project provides an inclusive and accessible career awareness platform for high school students and other young adults nationally, with pilot projects tailored to unique regional needs. Fully personalized, scalable, and adaptable, the technology solution is designed to boost the social mobility of Black, Latinx, and other underserved learners across the country by empowering them to make informed choices as they navigate complex educational and career options. The program is available at no cost to all users.

Joining CAEL in the development of Connected Pathways are technical and data partners Vantage Point, The Mentor Method, and Lightcast; community partners Junior Achievement, along with five regional partners who will localize and pilot the platform; and independent evaluation partner American Council on Education (ACE).

In the News
CAEL-Led Partnership Awarded U.S. Department of Education Grant of Nearly $5 million.
XP4.Careers
Most commercial education and career-planning tools in use by high schools today are designed as general, one-size-fits-all tools for a broad base of student users. Based on their funding models, these tools tend to be biased in their design toward more traditional, college-bound students. Exponential Pathways, or XP, is designed to showcase multiple education pathways (e.g., apprenticeships, technical training, work/learn, and dual-enrollment), in addition to more traditional college-to-work pathways, enabling students to truly visualize their lives in the careers each pathway opens to them without bias toward one pathway over another.
Localized Content
Localized pathways, experiences, and success stories intersect to help students and job seekers think intentionally about long-term goals, while supporting shorter-term "wins" to build engagement and momentum.
PathBuilder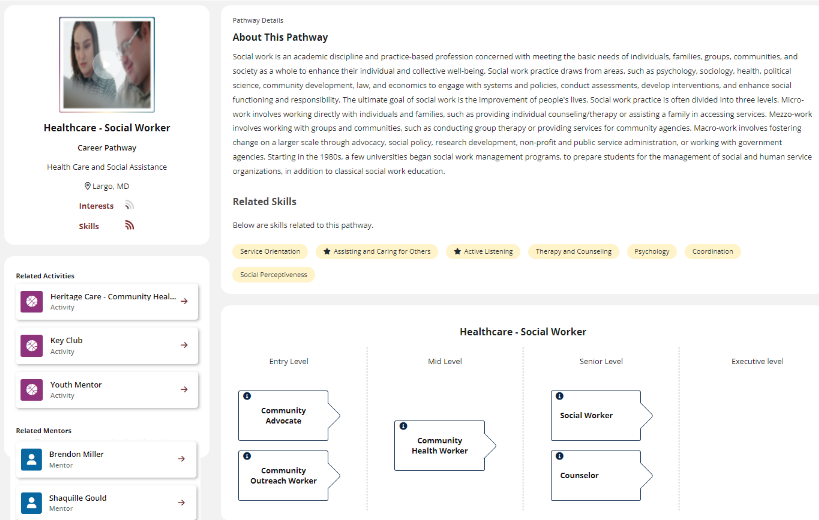 Localized Career Pathways highlight specific occupations and the steps and requirements needed to move from one occupation to the next. Users can reflect on what it means to move into different career fields, and understand a "day in the life," fine-tuning their search by taking a skills or interest quiz.
Virtual Mentor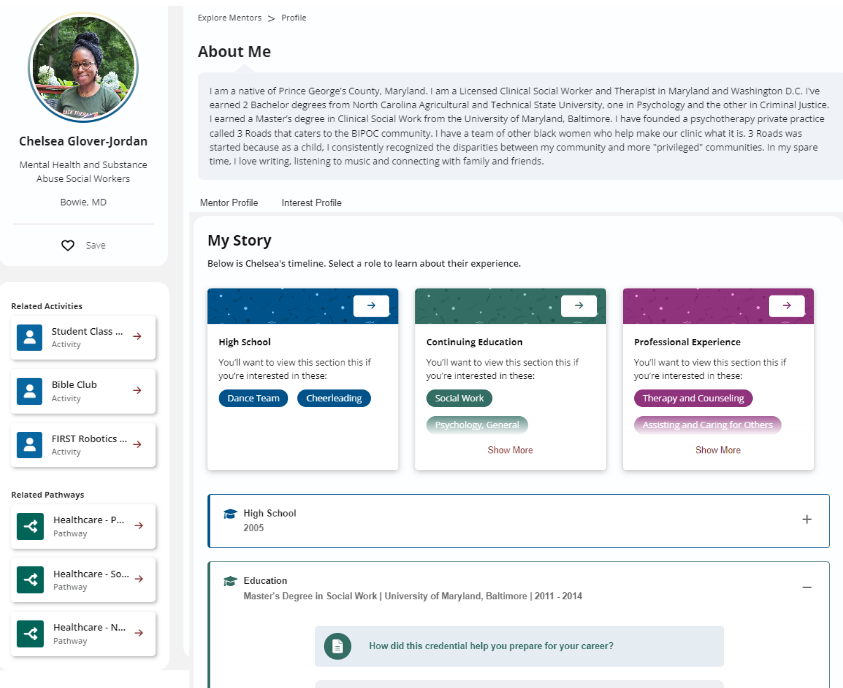 Users can view stories from local professionals, highlighting their educational and career experiences, skills earned, and lessons learned. Students and job seekers gain real-world context for a diversity of career pathways and see success stories from people who share some of their skills or interests.
Experience Registry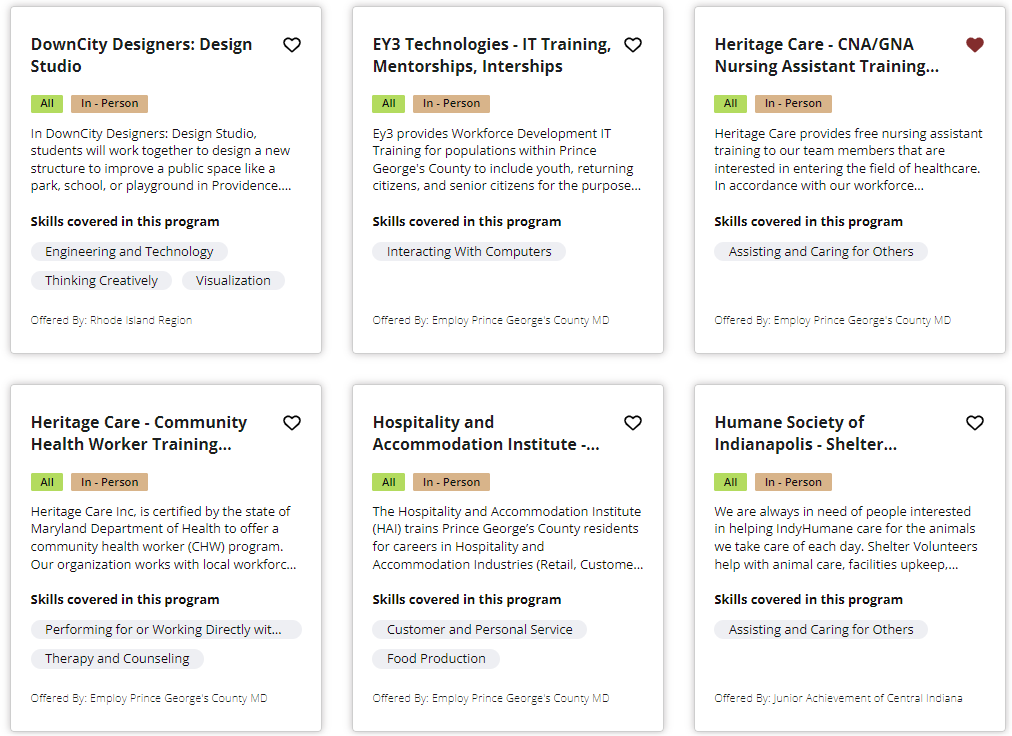 Empower students and job seekers to take small action steps towards building skills and testing their areas of interest. The Experience Registry surfaces localized internships, clubs, groups, camps, programs, projects and other activities related to specific skills, occupations, and career pathways of interest.
ROI Calculator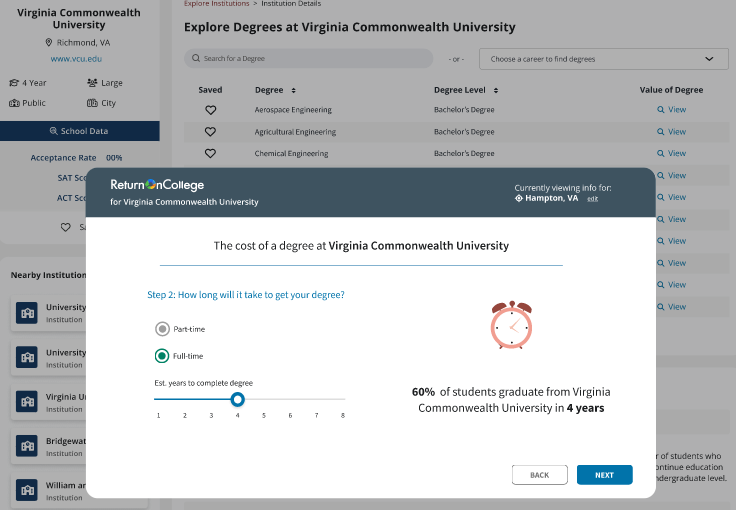 The calculator gives students and job seekers a graphical means to view the contextualized and personalized net price of education, total cost of education financing (e.g., tuition, loans), impact of debt and other charges on monthly budgets, and a lifetime return on investment (ROI) of different educational and career pathways.
Build Upon Existing Programs
Teachers, counselors, coaches, and advisors can use the platform holistically, or leverage different components to enhance a curriculum or complement existing career exploration activities.
Regional Pilots
CAEL is piloting the XP platform with target populations in six regions. Each regional partner introduces a unique use case, but all share the same goal of helping underserved students make more informed career- and educational choices.
EPG
Employ Prince George's is an industry-leading workforce development service provider, administering over 14 workforce development programs supported by more than 20 funding sources. Employ Prince George's serves as the link between jobseekers looking to begin or change careers, and businesses looking for skilled workers to maintain competitiveness in a changing labor market.
Rio Salado College
In 1978, the Maricopa County Community College District (MCCCD) challenged the limits of tradition by creating Rio Salado College to serve non-traditional students. The College has maintained a tradition of excellence in distance learning for over 40 years. Rio Salado is one of 10 independently accredited colleges comprising the MCCCD, which is overseen by an elected governing board. Serving more than a quarter million students online for over 20 years, Rio Salado is dedicated to providing innovative educational opportunities through college bridge pathways, community-based learning, corporate and government partnerships, and early college initiatives.
Bloom2Prosper
As an educational consultant specializing in high school reform, Bloom2Prosper collaborates with organizations to drive transformative initiatives that prioritize equity and access for underserved students. Through student-centered approaches and engaging real-world experiences, Bloom2Prosper is committed to advocating for inclusive and dynamic education. Bloom2Prosper works with organizations, non-profits, policymakers, and directly with schools and students to ensure they have the necessary tools and projects, internships and work experience to graduate with 21st-century skills applicable to both higher education and the workforce.
Junior Achievement of Central Indiana
Junior Achievement (JA) has over 100 local JA Areas across the nation that together form the nation's largest organization dedicated to giving young people the knowledge and skills they need to own their economic success, plan for their futures, and make smart academic and economic choices. JA's programs—in the core content areas of work readiness, entrepreneurship and financial literacy—ignite the spark in young people to experience and realize the opportunities and realities of work and life in the 21st century.
Reading Community City School District
Reading Community City School District serves nearly 1,700 students in a state-of-the-art campus in the City of Reading, a small residential community of 3.1 square miles centrally located north of downtown Cincinnati. Reading is home to approximately 10,385 residents who have a long history of valuing and supporting public education at the highest level.
Higher Expectations for Racine County
Higher Expectations is a collective impact organization that engages community partners, aligns efforts, and maximizes resources to promote excellence and equity in education and employment outcomes in Racine County.
Regional Convenings
In Summer and Fall of 2022, the CAEL team conducted site visits to each of the regional project partners for the Connected Pathways project. These site visits provided the opportunity to convene regional stakeholders engaged in the work of tailoring the XP platform to the unique needs of their local community.

In the Fall 2022 convening, the CAEL team and our regional partner organizations convened a project advisory committee composed of local business leaders, educational institutions, and other stakeholders to identify local community and workforce priorities to be focused on by the XP platform. Additionally on this visit, the CAEL team and our regional partners convened a focus group of employers and others with specific knowledge of the skills and education needs of local job-seekers to help inform the types of skill-building experiences and career pathways that would be surfaced by the XP platform.

In the Winter 2022 site visit, the CAEL team was then able to return to the previously established advisory committees to demonstrate the functionality of the platform with localized content incorporated into the user experience for further feedback.
Share your Educational or Professional Story with High-School Students!
Would you be willing to sit with us for a 60-second video interview at the CAEL Conference? CAEL is curating short stories for our "virtual mentor" database. By sharing a little bit about your high school or postsecondary education, and/or your professional career, you can help "humanize" the XP platform and provide real-world context for students navigating their own pathways.
How it works:
Sign up
here
to make a video at the Conference
Sign up here to make a video at the Conference
After the Conference, we'll ask you to "approve" your profile so that we can publish it to the platform
After the Conference, we'll ask you to "approve" your profile so that we can publish it to the platform
This is NOT a real mentorship program where mentors meet or engage with students in any way
This is NOT a real mentorship program where mentors meet or engage with students in any way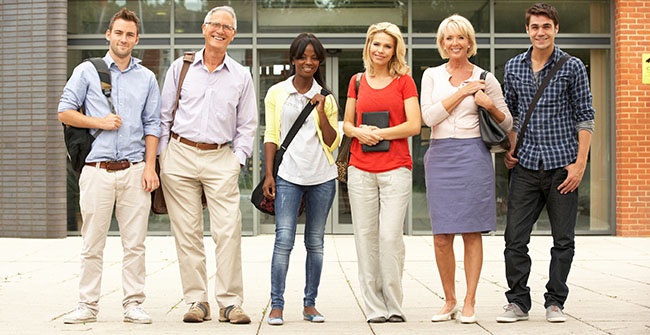 Interested in curating mentor stories for your own project or platform? Visit
vmentor.org
or contact Claire Muth at
cmuth@cael.org
to learn more.