How EPCE's Learner of the Year Is Using Education Benefits To Make the Perfect Job Even Better
by Carlo Bertolini on Sep 06, 2023
Leigh Mason is the winner of the second annual Energy Providers Coalition for Education (EPCE) Adult Learner of the Year award. She embraces the identity of a lifelong learner in her role as a maintenance supervisor at Nine Mile Point, a Constellation nuclear power station in Oswego, New York.
It has turned out to be an ideal setting for stoking an appetite for knowledge. "A learner of the year likes to learn new things all the time," she said. "This industry affords that every day. And that's why I love it."
Mason, who graduated with a B.S. in physics from SUNY Oswego, joined Nine Mile Point in 2003 as a plant operator. She was initially drawn to the energy industry because it offered a good salary. But she soon realized there was even more to love about her chosen career.
"It just made sense to me how a power plant operates," she said. "It was right in line with my physics degree. The puzzle pieces fit together, and I fell into a job that I was perfect for, and it was perfect for me."
Thanks to Constellation's partnership with EPCE, and a company-provided tuition reimbursement benefit, Mason has been able to complement the extensive experiential learning she has gained during her 20-year (and counting) career with industry-aligned academic programming. In September of last year, Mason completed an online M.B.A. program at Excelsior University, an EPCE education partner.
Today, Mason supervises a crew of eight to 10 workers in the plant's instrument and controls department. She was promoted into the role two years ago, shortly after she began the M.B.A. program.
At the time, her husband, a supervisor in a different department at the plant, was finishing his undergraduate degree at Excelsior. He too was availing himself of the EPCE education benefits available through Constellation and wanted to build on his bachelor's degree immediately. The couple enrolled in the M.B.A. program together.
"My original intent wasn't an M.B.A., but once I went into management here, it seemed like the smarter program that would be more beneficial to my career," said Mason. "My husband and I were very strategic about what classes we chose. We wanted to make sure they were applicable to our current roles. And the class selection at Excelsior was perfect for that."
As a result, they ended up in many of the same classes. "It was pretty funny during intros," she said.
The experience was her first with online learning. Mason, who describes herself as a people person who prefers face-to-face engagement, praised the program for its flexibility and for fostering continual interaction among students and instructors. "The way the courses are set up, you know exactly when your homework will be due, and you know exactly what's expected of you over the eight weeks. The instructors are amazing. It really is a program set up perfectly for full-time employees."
The camaraderie of fellow adult learners was another plus, said Mason. "You're with other adult learners, and they're working 40-hour weeks along with you, and you're able to share your work experiences." Not that she needed it, one of those adult learners was incredibly motivating.
Describing the competitive spirit between her and her husband, Mason said the couple would compare their GPAs after receiving their latest grade within a course. She said she's not sure who ended up with the highest GPA at the end, "because we were both way up there and we would be back and forth as to who had the higher grade. And that was actually kind of nice, because it gives you that extra boost to want to do better." (Of course, we do know who ended up bringing home the EPCE Learner of the Year award.)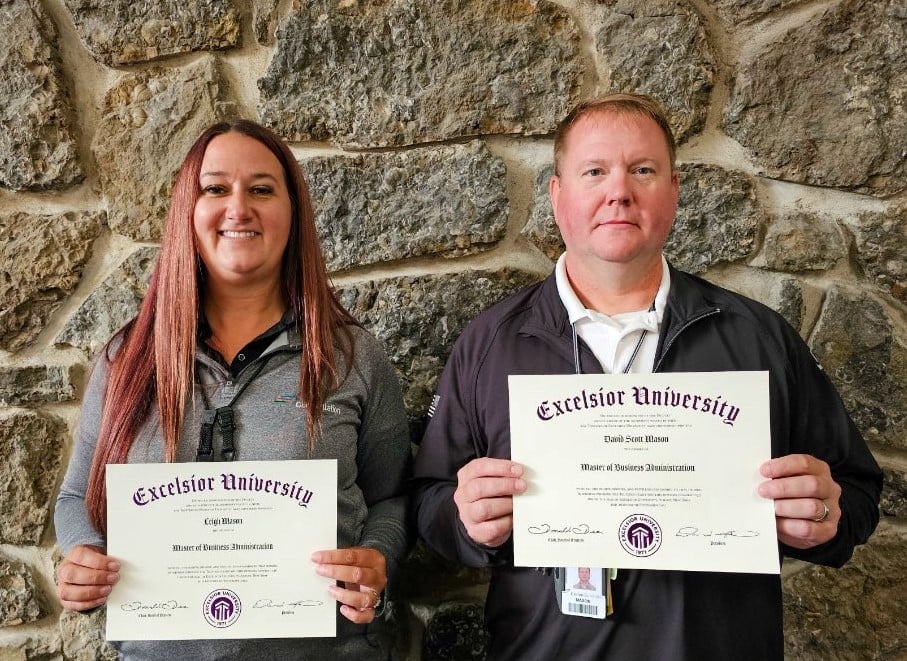 The payoff from her courses began well before she completed the program. Mason cited project management and leadership as competencies that she was able to enhance as she completed her M.B.A.
"Since I started my career here, I've been in some sort of project management role with whatever I was doing," she said, explaining the benefit of applying formal terms and learning to a core discipline of her job. For example, during her M.B.A. she worked on a reactor refueling project that involved major turbine work. As a project lead, she oversaw elements from early planning through execution. "Project management, economics, budgeting, all of that played into planning through this major work window, and we were able to execute it on time," she said.
As someone who places preeminent value in learning, Mason is quick to share her knowledge with colleagues. That includes both the wealth of institutional information she has amassed during her career and her recent insight from her M.B.A. program. To be sure, she takes every opportunity to urge her coworkers to pursue the education benefits available to them.
Mason's dedication and excellence to these two very different but intimately connected aspects of her job earned her not just the 2023 EPCE Adult Learner of the Year but also the plant's First Line Supervisor of the Year, a peer-endowed honor. Both commendations noted her stellar performance on the turbine project and her dedication to serving others through leadership.
It's a responsibility she doesn't take lightly, and another point of harmony between her employment and education at Excelsior. She says leadership and labor relations classes within her M.B.A. program were helpful, given her transition from craft technician to a supervisor of union personnel. "That was really eye-opening, going from being in a union to management."
Mason credits the classes for honing her skills in group dynamics and resolving disagreements. "There are times when I have to step in to be the mediator or a sounding board to resolve a dispute because people don't necessarily interpret what somebody's saying the way they mean it. It goes back to leadership and conflict management, getting those skills and being able to use them to keep me and my peer group working as a cohesive group."
From her undergraduate degree to her on-the-job experience to her M.B.A., Mason has found that a balance of so-called hard and soft skills has been ideal. That's reflected in her supervisor of the year win. The award praises her consistent contribution to not only the success of her crew and department but her cross-functional contributions to the entire plant and its reliability.
It's no surprise that she recognizes her ever-growing set of competencies as an asset for her own career growth as well as her team members'. "The M.B.A. definitely has provided me with tools that I can apply immediately and learning that I can share with my peers," she said. "But I also have some things in my back pocket for when I take those next steps into a senior manager position, so I can always draw on that knowledge."
For now, she is considering additional learning opportunities that Constellation offers internally. She continues to urge her coworkers to pursue their own learning paths.
It boils down to some simple questions and rather direct observations: "Why would you not want to take advantage of this program? Why would you not want to learn more things? It's a program with so many different options. You're crazy not to take advantage of it."
It's hard to argue with the wisdom of a lifelong learner.