Who Will Nurture the Nurturers? The Importance of Child Care to Our Overall Economy
by Megan Mzenga on Jun 10, 2021
Among the pandemic's many misfortunes is a tendency to escalate challenges to full-blown crises. Access to quality, affordable child care has been no exception. Several factors stemming from the pandemic and lockdowns have converged to cause double-edged disruptions for the industry's consumers and its providers. The resulting pricing and availability issues have created ripple effects throughout the broader economy, with implications for virtually every industry.
Recognizing that a rising child care industry can lift all others, CAEL has long included the sector in its career pathway mapping and other workforce development initiatives. In 2019, we partnered with the Santa Cruz County Workforce Development Board in support of its work to address a local shortage of workers for the early childhood (ECE) industry. With the national importance of ECE only growing since then, we have issued a research brief leveraging this work within the context of challenges and opportunities facing an equitable post-pandemic recovery.
Fortunately, we are not alone. Based on interviews with experts in the industry, the Urban Institute released a research report in February outlining 19 state and local policy strategies in support of the child care workforce. In March, the Center for Law and Social Policy published a state-by-state summary of the child care relief provided by the American Rescue Plan Act. And most recently, the Aspen Institute hosted a webinar in which a panel of 'policy and practice experts, cultural leaders, and caregivers' discussed how policy measures might elevate the child care industry in a way that equitably benefits both its workers and the families who depend on them. And Ruth Bauer White, who leads our fellow Strada Education Network affiliate InsideTrack, recently wrote an op ed that includes tips on how postsecondary institutions and student parents can access funding and other resources to help meet child care needs.
Finally, and much closer to the immediate CAEL family, Megan Mzenga, our operations coordinator, has been gracious enough to share her perspective as someone for whom child care has been an important issue. Megan gave birth to her first child back in October. We hope you enjoy her account, which helps contextualize some of the issues centered in our brief.
***
For several reasons, child care is a topic that resonates on a personal level with me. First and foremost, my husband and I don't have any family near us. So we knew we'd be looking into support options as we prepared for the arrival of our first child. What we didn't know was that we'd be doing so during a global pandemic and lockdowns!
I found out I was expecting in February of last year. Ironically, it was right before a trip to what would be the last in-person convening (and my last travel to date) of CAEL's Latino Adult Student Success Academy cohort. Lockdowns would begin just a few weeks later.
I started the search for a daycare provider in the summer. My husband, Billy, and I were both remote workers before the pandemic, and by then, much of the workforce had joined us. Initially, we had thought of seeking help from friends who might watch the baby for us a few days per week, with part-time daycare filling the rest of the work week. But we decided that would be too distracting during work hours in our apartment. Billy is also studying for his Ph.D. On top of that, we didn't want to create any additional risks of exposure for our friends, even though we were both limiting our contact with the general public.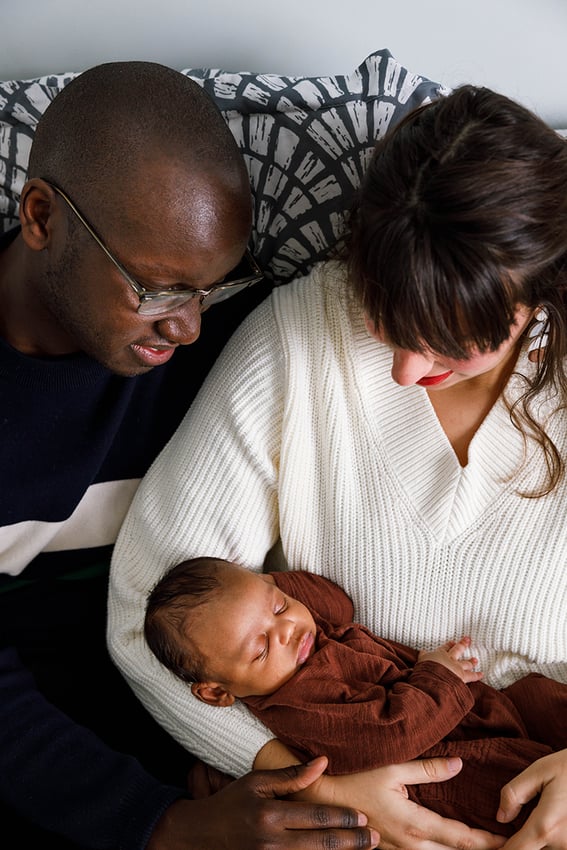 As our brief notes, the shutdown led to large reductions in child care availability and large increases in prices. I can attest to that. Deciding on child care is an ordeal for new parents in normal times. But sticker shock, long waitlists, and the inability to tour facilities took stress to another level. Adding to the uncertainty was the risk of a sudden closure if an outbreak occurred.
Even pricing information was hard to come by. It wasn't posted on provider web sites. I had to call to get the information. If I survived the sticker shock, these calls had more bad news to share: lengthy waits for an opening. Some providers wouldn't have availability for six more months, which would have extended three months after I planned to return to work from my leave.
Finally, in August, I found what seemed like a good fit. It was within walking distance of our apartment. The daycare staff member told me to simply check back with them 30 days prior to placing my child there. A few months later, when I did so, the same person remarked how fortunate I was because they were just about to give up their last infant spot!
As someone who lives far from family members, I'd like to think I have a solid perspective on the importance of child care support. Even seemingly minor tasks, like going to the grocery store, can be a hurdle when there isn't someone on hand, even for a short while, to help out. However, as stressful as the search for child care was for me, I can hardly imagine the challenges that front-line workers and others not as fortunate to have work-from-home options have endured. For them, there is no backup plan. In many cases, being without child care means being without work.
I also sympathize with child care providers. Even as the closure of schools and child care centers have forced women to leave the workforce, the pandemic's peaks and valleys have likely made it difficult for them to gauge demand, which probably explains some of the miscommunication around waitlists and difficulty getting pricing information. They and their own workers also face the uncertainty of sudden shutdowns in the event of a positive case.
The limited child care availability I experienced during the pandemic is something that is commonplace during normal times for many communities -- that's not right and something that our workforce system needs to address. If the demand is there, we should be focusing on maintaining a good supply of workers with the skills to take care of our most precious and vulnerable family members. I'm hoping that this current crisis shines a light on those labor supply needs.
On the bright side, we did end up with a daycare provider that is a fair fit for our family as it's close to us and within our budget. The staff is wonderful. Billy and I are also fortunate to both have understanding employers who appreciate the difficulty of child care during this time. And Nakhosi, our son, is safe and happy. I can't think of a more important way to measure the value of a child care provider.