Back to all
How Data Is Helping Penn State's Department of Adult Learner Programs & Services 'Walk the Talk'
Carlo Bertolini
/ April 10, 2023 / 5 min read time
When Leslie Laing praises the lived experience of adult learners, she does it from the conviction that comes from having lived that experience herself. As is the case with so many adult learners, Laing's pathway to completion wasn't linear. Nor was it without challenges. A single mother, Laing had to make tough choices as she navigated that journey. Would she make car repairs, buy a textbook, or purchase a pair of shoes for her daughter?
After nearly a decade of facing down such dilemmas, her persistence was paying off. Laing, enrolled at her third university, would finally receive her bachelor's degree. But there were a few final pitfalls to overcome. "On my third attempt to complete my degree, I was rejected by the school of business because I lacked prerequisites as a transfer student," Laing recalled. "So I was afforded the opportunity to study general humanities, sociology, until I stumbled on a mentor who hired me as an adult student."
Her mentor would introduce her to the world of higher ed from a service perspective. She encouraged Laing to study higher ed administration. That led to opportunities to work in student affairs, plan orientations, teach first-year seminars, and, ultimately, she was empowered to pursue a master's program.
When Laing received her bachelor's degree, she decided to memorialize the accomplishment she had fought so hard to achieve. But when she shopped for a diploma case, she realized she couldn't afford one. Her colleagues pitched in and bought one for her. She proudly displays it in her Penn State office.
Her own journey to completion would eventually lead her to a role where it intersects with countless other adult learners traveling their own paths. Today, Laing is director of adult learner programs and services at Penn State, a CAEL institutional member. "When the opportunity was presented to become a champion for adult learners, I jumped in as the poster child," Laing recalled of her decision to join Penn State nearly 17 years ago.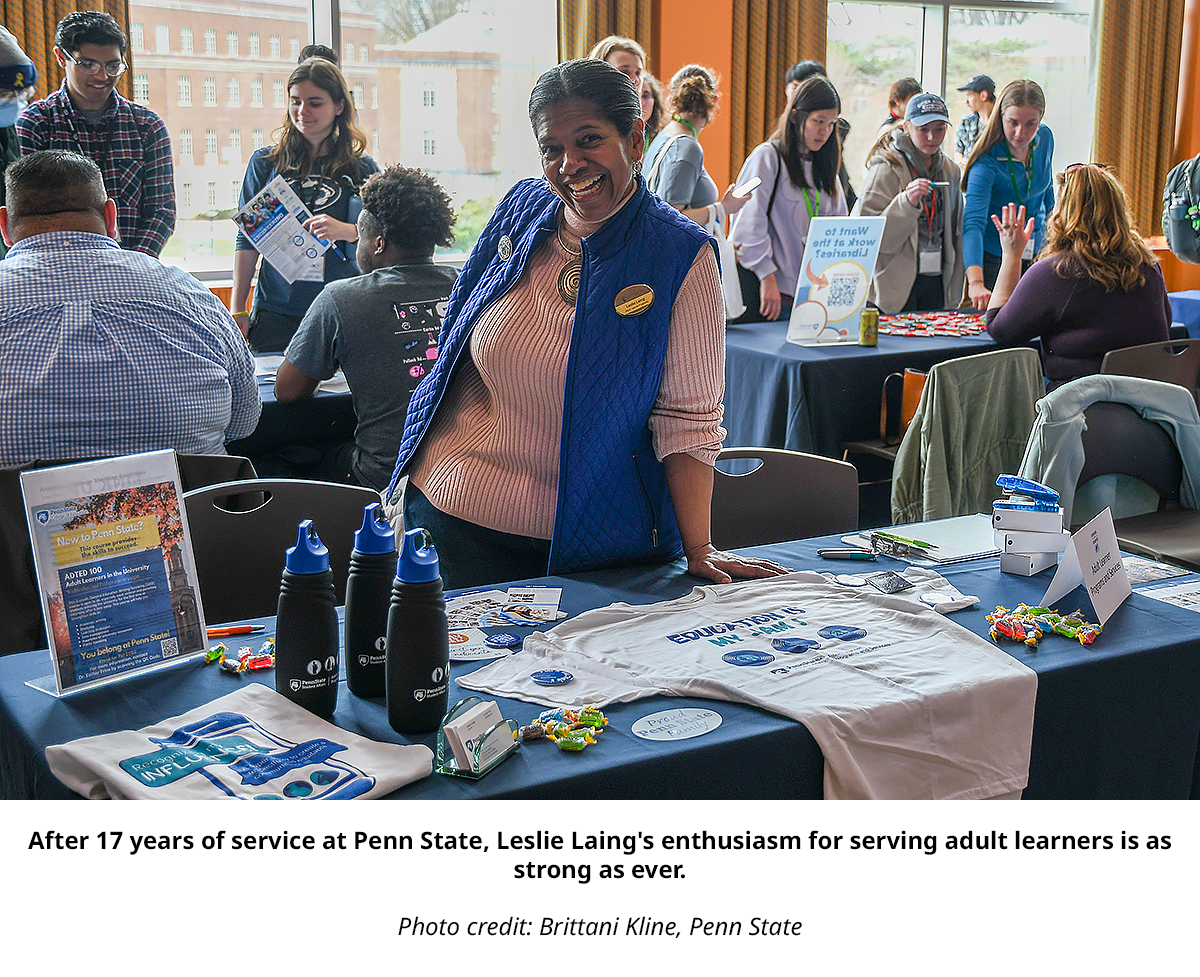 Penn State has a strong legacy of supporting adult learners. It recently celebrated a quarter century providing online courses, something that may seem perfunctory to a post-pandemic populace but was rather trendsetting back in 1998. Penn State has, also since 1998, hosted the Commission for Adult Learners, which is dedicated to improving the adult learner experience.
However, Laing's arrival in 2006 marked an opportunity to reestablish the university's commitment to the Department of Adult Learner Programs and Services. "That emerged from the rising student need for advocacy and mentorship as nontraditional-aged student populations expanded," said Laing, noting that adult learner enrollment is characterized by ebbs and flows.
Progress has been flowing at the department ever since, aided by Laing's use of data to ensure her department is never out of reach of the far-flung adult learner community. Laing's efforts with the Commission implemented an adult learner indicator across Penn State's 23 campuses and its online World Campus. Laing uses the designation to remain engaged with the diverse demographic of adult learners.
The adult learner indicator makes it possible to disaggregate adult learners from Penn State's sprawling undergraduate population of over 43,000. During the admission process, and according to the criteria, students can self-identify as an adult learner. This encodes them as adult learners within the university database, something that advisors and other staff can also do "by judgement" as they encounter students in the process of providing services.
"Identifying the who, the what, and the why always results in the how and when," explained Laing. "Launching an adult learner indicator has allowed us to create a list serve for our adult learner populations: adult, first-gen, veteran, and parenting students."
Laing uses this precise communication capacity to build surveys and conduct focus groups. In turn, these activities foster the connections that comprise a strong sense of community among Penn State's adult learners. "It allows us to tackle real-time concerns, desires, and offer programs on a wider variety of topics," she said. "Much like providing hybrid learning, fixing one thing often benefits the many."
Laing said the impact of her work is especially visible in a DEI context. "I take pride in the flexibility and capacity to expand our recognition of who we serve as adult learners," she said. "Our adult student populations consist of those who have experienced a gap in education of three years or more, are married, parenting dependents, first gen, emerging from the foster care system, formerly incarcerated, and of course, those over 24 and seeking an undergraduate degree at Penn State."
That population totals nearly 2,000 learners. From her office of one, Laing provides them with advocacy, mentorship, and programming and ensures they have access to additional community services and resources. "We also address cross-cultural issues that promote empathy and activism," she said.
She has led events devoted to topics such as immigration, bail traps, military appreciation, lunch box moments for the APIDA population, and biases and breakthroughs surrounding first-gen students. "We offer a wide variety of events and activities that help students explore bias, enhance emotional regulation, build or shift to a growth mindset, shed light on how they lead informally with their influence, fuel their activism, and explore self-awareness and skills along with opportunity to apply what they learn outside the classroom."
That may sound like a lot of work, but for Laing, it's more than worth it, ethically and practically. "Adult learners are important to the commonwealth and just as valuable and viable as traditional students," she said, noting that their experience and leadership attributes contribute to the parallel worlds of classroom and community.
Institutions looking to build or improve their own adult learner programs should begin by listening to those whom they would serve, said Laing. "Be willing to be uncomfortable and learn alongside of your students." Listening lunches or focus groups should have virtual options and include diverse student voices. Perhaps most important: "Be willing to pilot the ideas that emerge and include those who make the suggestion, allow time for connection before content, and finally, walk the talk."
Walking her own talk has taken Laing full circle. Among the many programs Laing has founded to champion adult learners at Penn State are the Adult Learner Opportunity Fund, which she launched with $500 of her own money, and the Outstanding Adult Student Award.
The fund supports undergraduate completion for adult learners who exemplify excellence through academic achievement, overcoming challenges, and serving their communities. Laing fundraises annually on Giving Tuesday to ensure the continuation of the fund and award. Unsurprisingly, she was named the Humanitarian Award Recipient in January 2023.
Winners of the Outstanding Adult Student Award receive a grant from the Opportunity Fund – and something else: Every year, Laing personally hands out a diploma case to the winners.
It's a pleasure for CAEL to share the great work taking place within the CAEL membership community. Members can stay apprised of the latest membership news at caelCONNECT and by participating in membership and other CAEL events. Interested in publishing your own adult learning success story? Contact cael@cael.org.