Back to all
How XPRIZE Is Driving Technologies to Uplift the Global Workforce
XPRIZE
/ January 26, 2023
The world of work is rapidly changing. The pandemic, emerging technology, automation, and artificial intelligence, among a myriad of other factors, are underscoring the urgent need to rapidly reskill our workforce to keep up with new ways of working. The finalist teams of XPRIZE Rapid Reskilling are reimagining the future of work and skills training so that all workers can rapidly, easily, and cost-effectively obtain new skills that allow them to unlock their potential and ensure longevity in their chosen careers.
Representatives of XPRIZE Rapid Reskilling finalist teams recently reflected on best practices in fast-paced skills training. In this blog, we'll surface some of the highlights from two XPRIZE finalist teams, VITAL and Team Isotonik.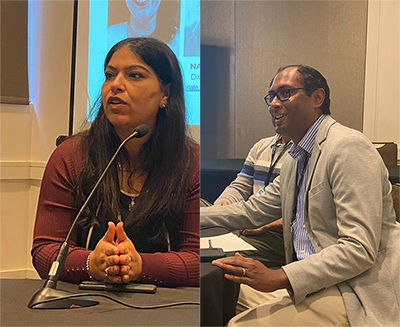 Yashwant Kumar, left, of Vital, and Komal Kaul, of Team Isotonik
What is an issue you see that is being addressed by fast-paced skills training?
Yashwant: Programs at traditional educational institutions are more focused on imparting knowledge and a foundation to help learners succeed through more expensive undergraduate or graduate school programs. Such programs are based on developing curiosity, research and innovation through established college labs and ecosystems with an onus on the learner to search for employment based on their interest towards the end of the program. Programs are quite inflexible and often follow a credits system and take longer time to complete.
In contrast, fast-paced training similar to the VITAL Reskilling program aims to provide unemployed and underemployed individuals critical job skills for employment. These trainings are inexpensive, flexible to accommodate needs of learners, work closely with employers to facilitate jobs at the end of program and are quite short in duration, issuing a certification or badges to signify completion by a learner.
Given the pervasive and steep inequality in the society, fast-paced skills training is the need of hour for learners, especially if they have dependents, interested in getting on their feet quickly and obtaining employment.
Komal:
Filling the skill gap
Post COVID many middle market companies found themselves struggling to hire employees with the needed skills. At the same time existing workers are being burned out, creating a vicious cycle of employee turnover.
According to McKinsey Global Institute estimates that 14 percent of the global workforce would have to switch occupations or acquire new skills by 2030 because of automation and artificial intelligence. This changing technology is requiring new skills for new kinds of work. In addition, due to COVID changes in supply chain, regionalization and localization are changing what skills are needed where.
The bulk of the skills gap is the result of an educational system that hasn't kept pace with the evolving economy hurting prospective workers and businesses. Our solution is able to impact the skill gap from a training and education perspective.
Equitable access to education
Because of the rapid fire technology innovation more American workers are worried about their job security. Research from the Education Index cites that nearly six in 10 working adults say the anticipation of student loan debt has prevented them from pursuing educational opportunities, and half say they can't advance in their careers because they can't afford to take on additional student loans for further educational opportunities. Our online rapid reskilling platform allows learners to reskill without the financial burden and while keeping their current jobs.
As a part of our recruitment and onboarding we have designed a comprehensive qualitative and psychometric assessment. This assessment helps learners find the right program for them based on their current hard and soft skills and abilities. Helping learners identify career pathways and then subsequent mentoring allows them to engage in educational opportunities better and increases their career and financial mobility.
Can you describe your solution? In particular, what is the learner experience?
Yashwant: The VITAL Reskilling Program is a free self-paced state of the art comprehensive program designed to accelerate the reskilling of unemployed and underemployed individuals. All the trainings are on-demand and available online for a registered learner for 1 year. The onus rests on the learner to watch the program videos and complete assignments within three months to obtain placement support while content will remain available even after three months duration. Expected training time for all 3 programs is expected to be about twenty hours with the Sterilization Technician program requiring a slightly longer duration.
Colaberry & Banyan Tree Global have joined hands by developing and delivering new training and upskilling solutions that employ AI powered soft skills training and other tools to condense learning times and break down barriers to gainful employment and social upliftment.
During XPRIZE Rapid Reskilling, we trained learners in:
Sales representatives for services (Occupation code: 41-3099)
Supervisors of food preparation and serving workers (Occupation code: 35-1012)
Medical equipment preparer (Occupation code: 31-9093).
Team VITAL partnered with employers, training institutes and independent trainers to provide us with curriculum and training programs in:
Strategic Combination for Job Readiness on Day 1
Hard Skill Training
Soft Skills Preparation – Job Readiness Bootcamp

Including Interview Prep via Video Feedback System, Resume Prep, and other services
Komal: Isotonik is an AI enabled rapid reskilling platform that helps assess, train and place displaced workers in growth industries. It is a single solution platform that connects displaced employees and those wanting to up-skill/ re-skill with a customized learning lifecycle, linking them to potential jobs and connecting them with prospective employers in the occupation of choice or occupations for which they may be pre-qualified. The solution can also give immersive 3D avatar based and hands-on skills training through Virtual Reality/ Augmented Reality (VR/AR) for specialized occupational roles that have a need for them.
In summary, we have a 4-step solution for the entire process:
Assess for current skill and ability and identify the skill gaps for employment.
Reskill in a worker-centric customized method using advanced technology delivery systems.
Evaluate the skills post training.
Provide a complete platform to enable employment.
How can the incorporation of building power skills/soft skills enhance the training programs? How important are they in the job market?
Yashwant: Several surveys and programs have found the soft skill gap in job applicants to be critical for an employer's hiring decision.
Our state of the art AI driven learning technology enables talent to learn rapidly using their natural ability to learn-by-doing, exploring, failing, self-correcting, rehearsing and mastery, which are critical skills they will be prepared to apply on the job. Through our award winning platform, Refactored.ai, participants are equipped with on-the-job skills, critical human skills and taught by highly qualified professionals with over 30 years of experience in the targeted industries.
Komal: Soft skills can help one communicate effectively, demonstrate professionalism and develop business relationships. Problem solving, delegating, motivating,creativity, integrity, conflict management, adaptability and teamwork, all are much easier if you have good soft skills. All our trainings include not only asynchronous modules for soft skill training but we also have webinars and workshops by the experts for a variety of soft skills including how to best represent yourself on a zoom interview.
How can we get in touch with you/keep up with your work?
Yashwant: To keep up with our work, please check our website - https://info.colaberry.com/vital or you can contact us by email - at sanjeev@banyantreeglobal.com or yash@colaberry.com.
Komal: Visit www.isotonik.org or email us at support@isotonik.org. You can also follow us on LinkedIn at Isotonic Solutions Inc.