Back to all
Equity Paradoxes in the PLA Boost -- CAEL and WICHE Research
CAEL
/ October 10, 2021 / 2 min read time
Previous 2020 research from the Council for Adult and Experiential Learning (CAEL) and the Western Interstate Commission for Higher Education (WICHE), made possible by funding from Lumina Foundation and Strada Education Network, found that prior learning assessment/credit for prior learning (PLA/CPL) has a strong positive effect on adult student credential completion, benefitting all student subgroups.
However, there is an equity paradox:
Black and lower-income adult students received strong boosts to credential completion from PLA/CPL credit—but they were the least likely to receive such credit.
CAEL and WICHE examined this equity gap more closely in this new study, Equity Paradoxes in The PLA Boost: Opportunity Unrealized for Some Students despite the Potential for Improved Credit Completion.
A closer look at the original dataset from The PLA Boost resulted in new equity-related findings:
Adult Pell Grant recipients demonstrated greater-than-average completion boosts from PLA/CPL programs—particularly Black adult Pell recipients.
PLA/CPL credit receipt by Black service members is closer to parity—the disparity in PLA/CPL credit receipt largely exists among non-service member students.
The lowest PLA/CPL credit rates in this study were seen among non-service-member adult students. Black non-service members consistently had the lowest PLA/CPL credit-receipt rates in this study.
New interviews with PLA/CPL institutions helped provide additional insights for what factors may be at play in the credit receipt patterns by Black adult students and low income adult students. These factors likely include barriers of cost, inadequate outreach and support around PLA/CPL programs, policies and practices that are not adapted to all types of prior learning experiences, and lower self-confidence among many adult learners, particularly certain subgroups that are historically underrepresented in higher education.
The report points to several strategies that postsecondary institutions can take to mitigate those factors and to help ensure PLA/CPL programs are available and accessible to all adult learners. These include:
Prioritize equity in the design of PLA/CPL programs
Develop financial supports for low-income students or provide PLA/CPL free of charge
Improve PLA/CPL communications to students
Embed PLA/CPL systemically in advising and curriculum
Improve data infrastructure and analysis to understand where equity gaps exist
Provide PLA/CPL offerings for learning that occurs in a wide range of occupations
Scale processes for simpler PLA/CPL crosswalks between industry-developed skills and academic programs
Read the full Equity Paradoxes in the PLA Boost report, an executive summary, and other supporting information below.
Download Research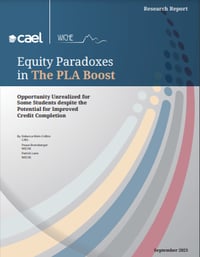 Equity Paradoxes in the PLA Boost
1-Page Research Snapshot
2020 PLA Boost Report
Free CPL resources for postsecondary institutions