Back to all
Q&A With CAEL Staff: Barry Darnell
Barry Darnell, who joined CAEL in 2016, has led adult learner-centric initiatives in multiple governmental and postsecondary settings. He directed a statewide healthcare industry partnership and also has overseen career and academic advising, articulation agreements, and other strategies critical to sustaining education-employment pathways. Below, he shares some of that perspective in a "Q&A With CAEL."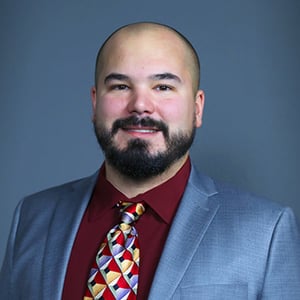 What's your favorite example of CAEL's impact?
My favorite examples of CAEL's impact are those partnerships where partners unite to make a big difference for adult learners themselves. The Latino Adult Student Success Academy and our work with KC Scholars come to mind. Everyone on these projects is so excited to see the impact on learners' lives and outcomes, from the CAEL team to the partners and the learners themselves. These initiatives show that fantastic things happen when we unite to address and eliminate barriers that prevent adult learners from realizing their dreams.
What drew you to CAEL?
I wanted to work for an organization with a community-driven mission. I was first drawn to CAEL by the great work that we do within workforce development. Having just led several statewide industry initiatives, it was refreshing to find an organization so committed to making a difference for individuals and communities, not just impacting numbers.
If there's one piece of advice you could give adult learners and one piece of advice you could give to institutions/organizations committed to better serving them, what would it be?
Having been a part-time, working learner, the best thing you can do is use your voice and ask questions about things you don't know related to navigating education built for someone at a precise point in their young adult life. Be a squeaky wheel! It can be hard at times in classrooms with a mix of ages, and I've been older than an instructor or two (this takes some getting used to!), so my advice on this is: Be humble, but also, be proud of your story. You have so much to contribute and your voice matters so much.
For institutions, don't take for granted just how diverse your adult learners are. Many of them are parenting, may be first-generation to attend college, and have life and community stories that can enrich the learning environment. They may also need additional support to make education happen - so be open minded and creative with student support. Instructors set the stage for classroom norms, so try to create a culture of respect for the diversity of age and experience in the classroom. Adults have feelings, too, and we know when our classmates expect working with us will be difficult due to our age and schedules. By treating adult learners' experiences as assets, your traditional students should learn to love sharing space with a mix of ages.
What gives you the most hope about the future of the adult learner ecosystem?
I feel like the concept of going back to school no matter your age is becoming more normalized. I love how the curriculum has changed to include more diverse stories and voices. I am hoping that as a country, we can become more equitable by creating opportunities to learn about diverse cultures and histories throughout the liberal arts that accompany adult learner programs. I hope that as more people return to education, that we can share more stories and scholarship on communities that have long been overlooked in the curriculum, especially the studies of the histories and cultural contributions of people of Color, women, and LGBTQ+ folx.
What is the last book/movie you read/watched?
I am very much into The Lord of the Rings: The Rings of Power right now. Fun fact, I had never seen or read any of the Tolkien media until the COVID pandemic, and now I'm hooked! (By far, my favorite iteration is the trippy 1977 Rankin-Bass "Hobbit" animated feature.)
What do you enjoy doing outside of work?
Rugby and fitness are my bread and butter. I'm always happy to talk about rugby. My other hobbies include watching documentaries and international films, traveling, trying new foods and beers, and spoiling my niblings. I'm also unofficially many friends' academic and career advisor -- I just can't seem to shake my advising roots! -- and I love meeting with a friend to help them plan for a brighter future.