Winter 2021 Newsletter
by CAEL on Feb 13, 2021
New Research from CAEL and WICHE Highlights PLA Benefits to Adult Learners and Postsecondary Institutions
CAEL and the Western Interstate Commission for Higher Education (WICHE) released The PLA Boost, a report on the use and impact of prior learning assessment (PLA) on student outcomes at 72 U.S. postsecondary institutions. "The PLA Boost" builds on research CAEL completed a decade ago that helped quantify PLA's impact on student and institutional outcomes. "The PLA Boost" confirms earlier findings that PLA credit significantly increases completion rates for adult students. For example, report data, which cover more than 230,000 adult students, show that those with PLA credits are far more likely to complete a postsecondary credential. Credential completion was 22 percentage points higher for adult students with PLA than adult students without PLA. PLA benefits also extend to the institutions that embrace it. Adults with PLA credit took 17 or more course credits from the institution compared to adults without PLA credit.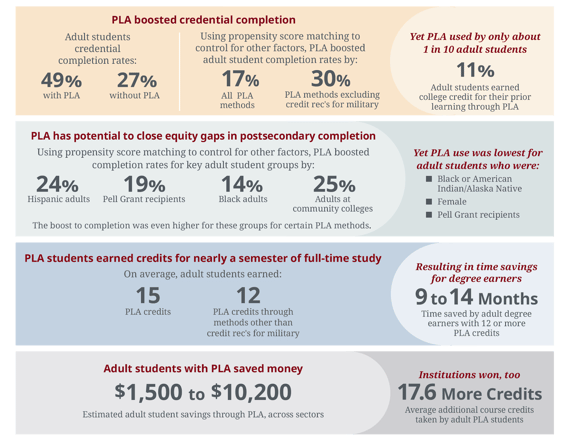 Initial Slate of Microcourses Now Available
The latest additions to CAEL's professional development and training options are now available. They include the complete initial series of eight microcourses. The microcourses are based on Adult Learner 360 data and a lengthy listening tour that captured perspectives and input from practitioners throughout the world of adult learning. Roadmaps to Success: Understanding and Serving Your Adult Learners is the first in the series and is open to the public. CAEL members enjoy access to the entire "on demand" microcourse program. Complementing these bite-sized learning opportunities are our multi-week, instructor-led online courses. The latest series begins on Feb. 15.
CAEL 2020 Conference Sees Record Registration
2020 was full of historical moments, some better than others. A bright spot for CAEL was the record number of registrants -- more than 2,000 -- to our annual and, in this case, all-virtual, conference.
With 10 tracks, 99 sessions, and 153 speakers, there were no wrong answers when it came to choosing the conference experience. But even with a virtual conference, no one could experience them all during the event's three days. The good news is there is still time to sign up for All-Inclusive Member Access, which provides unlimited replays to all conference content, including in-depth preconference workshops and Q&As with our keynote speakers, through May 31, 2021.
Content topics include:
PLA and credit for prior learning
Upskilling and reskilling for the future of work
Successful adult learner academic models
Assisting military adult learners
Using data to assess learning and increase adult student success
Building partnerships among educators and employers to support adult learners as they navigate the on- and off-ramps that link learning and work
And in case you missed it, speaking of excellence in adult learning, congratulations to our 2020 award winners! You can watch their videos here.
We hope to see you at the CAEL 2021 conference in sunny San Diego!
CAEL Rolls Out New Website, Updated Branding
CAEL has launched a new website and refreshed brand. They are informed by focus group work we completed with members and other stakeholders from all corners of the work-learn continuum. The result is a more relatable brand representation of CAEL that helps us better connect with our evolving stakeholder community while ensuring our legacy continues to provide a strong foundation for our mission and vision for the future.
New website features include:
A refreshed logo, tagline, and color palette
Improved clarity and consistency around our work
Better storytelling via case studies that demonstrate results
Fresh thought leadership content
A searchable "Resources" section (news, blog posts, etc.)
A legacy content archive, grouped by topic
Seamless content sharing
We hope you visit our new site often. As always, we welcome your input.
On the Right Path: Grant Work Supports Greater Focus on Recognition of Prior Learning, Workforce Collaboration
In December, CAEL presented the final results of a three-and-a-half-year series of activities connected to the Pathways to the American Dream project (PAD). PAD is administered by the New River/Mount Rogers Development Board, in southwest Virginia, and supported by an America's Promise grant from the U.S. Department of Labor. PAD work included nine rural community colleges in the Virginia Community College System (VCCS). CAEL supported PAD by assessing the effectiveness of factors critical to adult learner success within this cohort, including policies on recognition of prior learning.
CAEL's analysis included the Adult Learner 360, its integrated program-support and diagnostic resource. CAEL completed an Adult Learner 360 implementation for each college at the beginning of the project, in fall of 2017, and again at its conclusion to provide quantitative progress measurement. It also completed front- and back-end surveys on recognition of prior learning practices. Interviews with institutional personnel complemented this data with qualitative insights from the field.
Throughout the project, CAEL hosted process mapping, strategic planning, professional development, and other activities that have helped institutions align with best practices around supporting adult learner success. For example, they have enhanced marketing the concept of prior learning and broadened methods of assessing it, reporting that recognition of prior learning has fast-tracked students to success. The colleges also have increased their collaboration with employers and workforce/economic development associations in an effort to link learning outcomes with students' career goals.
Get Educated on the 60-Year Curriculum With Harvard Professors Christopher Dede and John Richards
In a Feb. 25 CAEL webinar, Drs. Christopher Dede and John Richards will share their research, expertise, and insights on the concept of the 60-Year Curriculum. Authors of "The 60-Year Curriculum: New Models for Lifelong Learning in the Digital Economy," Drs. Dede and Richards will cover the principles of the 60-year curriculum and explain how to apply them for the benefit of institutions and learners. The webinar also will feature CAEL institutional members Pima Community College and NYU in a discussion of lessons learned and big wins resulting from their real-world practice within the framework of the 60-Year Curriculum. Register here.
'Strength in Numbers' – IDN Partnerships Create Momentum That Promises to Persist Well Past 18-Month Initiative
In March 2019, CAEL announced the Inclusive Development Network (IDN), a cohort of five regions united by a commitment to prioritizing inclusion and equity to better serve the workforce and economic development needs of underserved populations. The inaugural cohort included Cleveland, Ohio; Corpus Christi, Texas; Spokane, Washington; the Northeast Oklahoma Regional Alliance (NORA); and Pensacola, Florida.
These communities were selected from more than 35 applications. The 18-month initiative, made possible by grants from the ECMC Foundation and JPMorgan Chase & Co., concluded in December of 2020. Through the IDN, each community received support, including financial stipends and consulting services, to help advance more robust equity and inclusion strategies within their economic and workforce development initiatives.
Although the pandemic forced the IDN's monthly meetings and quarterly regional convenings to shift to a virtual model about midway through the project, stakeholders were able to build strong partnerships that promise to persist well after the cohort's formal conclusion. In a participant survey, more than 80 percent of respondents indicated that the partnerships they formed as a result of the IDN were "somewhat" or "very" strong. Comments included that IDN collaboration has identified community partners that will make their work "sustainable way past the pilot." Another response praised IDN collaboration for featuring "such a diverse set of decision makers" and being "overlaid with an equity lens." You can read more about the IDN in this blog post. CAEL is currently pursuing funding possibilities that would enable future cohorts.
Phase 1 of Wellspring Project Outlines Competency Frameworks, Paving Way for Education-Employment Ecosystems Based on Digital Credentials
Thanks to collaboration among CAEL and other partners, Phase I of the Wellspring Project has successfully concluded. The Wellspring Project seeks to empower learners by seamlessly documenting their skills and prioritizing their recognition over seat time. It focuses on convening businesses and educators to help capture learning achievements and skills to empower individuals' ability to find jobs and help transform the education-to-work ecosystem. IMS Global Learning Consortium and 1EdTech Foundation Lead the Wellspring project, with funding from the Charles Koch Foundation and Walmart. More information about CAEL's role is available in this recent blog post.
CAEL Partnership to Create National Career Exploration System Focused on Underserved Learners
CAEL has received U.S. Department of Education Funding for Connected Pathways, a national career-exploration system. Fully personalized, scalable, and adaptable, the technology solution is designed to boost the social mobility of Black, Latinx, and other underserved learners across the country by empowering them to make informed choices as they navigate complex educational and career options. The program will integrate resources throughout the education-employment system to connect learners with work-relevant education and career opportunities. The first phase of Connected Pathways will launch in June. An online platform with additional project details will roll out ahead of the launch. Connected Pathways will be available at no cost to all users. Read press release.
In Their Own Words:

Bismarck State College has been embracing CAEL's mission of aligning learning and workforce skills for several decades. Our latest designation as a Polytechnic institution is an example of our commitment to meet adult learners where they are and provide them the skills they need.

Alicia Uhde
Polytechnic Program Outreach Director
Bismarck State College
Bismarck State College (BSC) is a CAEL institutional member. For more than three decades, BSC has been providing online education for the energy industry supporting the Energy Providers Coalition for Education (EPCE), a CAEL collaborative dedicated to supporting the energy industry's education and workforce needs.
Welcome New CAEL Members!
In the final months of 2020, we were honored to welcome the following new members to our community:
Institutional Members: Adelphi University, College of Southern Maryland, Parkland College, Shiloh University, South Seattle College, University of Nebraska Omaha, Waukesha County Technical College
Individuals from the following 22 institutions/organizations:
2U Inc, Alverno College, Ascendium Education Group, Bob Jones University, Central State University-Dayton, CITC, Clarion University, Cleveland State University, Detroit Regional Chamber/Detroit Drives Degrees, El Camino College, IUPUI, Jefferson Community College, Launch Academy, Minot State University, Red Rocks Community College, The Threshold Strategist, Thompson Rivers University, Trellis Foundation, University of the Cumberlands, University of Idaho, University of Mississippi, University of Sioux Falls.
For a list of CAEL affiliate and postsecondary institution and system members, please visit our website.
2021 New Member Welcome Webinars
Are you new to CAEL? We would like to welcome you personally! Please join us for a New Member Welcome Webinar soon! The CAEL Engagement Team will host up to six Welcome Webinars in 2021 to help you navigate your membership benefits and get you started quickly. We will discuss:
Your entire suite of members benefits and how to access them.
Upcoming events and how to register.
Exciting announcements for 2021.
How to get involved in CAEL.
Your questions and suggestions.
Look for an invitation in your email, or feel free to contact us at membershipservices@cael.org to receive the details for an upcoming webinar. We're looking forward to "seeing" you there!
Emsi, CAEL Partner on Dislocated Workforce Study for Tulsa Regional Chamber
The Tulsa Regional Chamber enlisted fellow Strada Education Network affiliate Emsi to analyze the workforce disruption created by the COVID-19 pandemic. CAEL supported the quantitative analysis by capturing perspectives in stakeholder interviews that offered insight about training needs, resource gaps, and other challenges facing workers and businesses. More information is available at economicmodeling.com.
Grant Opportunity: Education Research Project
The spring cycle of the Spencer Foundation's Small Research Grants Program is open, with a proposal deadline of March 1. Although the program is "field-initiated," meaning that proposals need not be tied to a specific issue or structure, the program statement notes that "... learning occurs across the life course as well as across settings—from the classroom to the workplace, to family and community contexts and even onto the playing field—any of which may, in the right circumstance, provide the basis for rewarding study that makes significant contributions to the field." Complete information is available at spencer.org.
Recent CAEL Appearances
Several members of the CAEL staff lent their expertise at recent industry and postsecondary events. They include:
Higher Education Research and Development Institute (HERDI): Beth Doyle, Ph.D. and senior vice president of client success and operations, Kristen Himmerick, senior director, solutions, Scott Campbell, Ph.D. and vice president, partnership development, and Alex Morrison, interim CAEL president, presented on CAEL's new PLA Accelerator during a HERDI virtual panel.
Complete College America: Beth Doyle presented on "Momentum."
National Association of Workforce Boards: Beth Doyle presented during a "super session."
International Economic Development Council: Claire Linnemeier, director of consulting, presented on CAEL's Inclusive Development Network at the IEDC Conference.
The National Council for Continuing Education and Training: Scott Campbell and Kristen Himmerick presented on prior learning assessment.
Singapore CET Symposium: Barry Nickerson, director, consulting, and Wilson Finch, vice president, consulting, presented on CAEL's Ten Principles and International Adult Learner 360.
KC Rising People Driving Committee: Barry Nickerson presented on CAEL's Ten Principles.
Lumina Foundation: Becky Klein-Collins, vice president, impact, and principal investigator and author of "The PLA Boost," presented at a convening on PLA. She also presented on this topic during a CAEL webinar and at the WICHE Cooperative for Educational Technologies annual meeting, the Ohio Department of Higher Education's Finish for Your Future Summit, the California State University Commission on the Extended University, and the Council of Independent Colleges.
Recent Blog Posts and Other Articles
CAEL-Led Partnership Awarded U.S. Department of Education Grant of Nearly $5 Million
Accelerating Degree Success for Adult Learners in Uncertain Times
How to Get Credit for Prior Learning in Nursing Programs
Linking Learning and Work Through Interoperable Digital Credentials and Shared Competency Frameworks
CAEL Learner of the Year Featured in Strada Education Adult Learner Public Viewpoint Webinar Panel
Webinar Analyzes Prior-Learning Assessments' Impact on Adult Student Outcomes
CEW Report: Balance of Education and Competencies Critical to Labor Market Outcomes
Prior Learning Credits Boost Completion Odds
College Credit for Experience Could Help Displaced Workers Post-COVID-19
How Colleges Can Make Prior Learning Assessment More Equitable
Employer-Based College Programs Here to Stay
Prior Learning Assessment: Give Higher-Ed Credit Where Credit Is Due