Back to all
New Research from CAEL and WICHE on Prior Learning Assessment and Adult Student Outcomes
The Western Interstate Commission for Higher Education (WICHE) received funding from Lumina Foundation and Strada Education Network from 2018- 2020 to partner with several organizations to conduct original research and a broad landscape analysis focused on policy and practice issues related to the recognition of prior learning. The landscape analysis focuses on issues arising in the practice of the recognition of prior learning, policies that encourage or limit its adoption, and key research needs and future directions for the field. One of the research projects was conducted in partnership with the Council for Adult and Experiential Learning (CAEL), examining the use and impact of prior learning assessment (PLA) on adult student outcomes at 72 postsecondary institutions.
For more than 50 years, colleges and universities have used a range of different methods to award college credit for learning that takes place outside of the classroom—particularly learning from work, life, and military experiences. These methods—often called prior learning assessment (PLA) or credit for prior learning (CPL)—value the learning that many adult students bring with them to college. CAEL recently conducted research in partnership with WICHE and 72 postsecondary institutions to explore the benefits of PLA for adult learners. Data on more than 230,000 adult students showed that those with PLA credits were far more likely to complete a postsecondary credential. Credential completion was 22 percentage points higher for adult students with PLA than than adult students without PLA.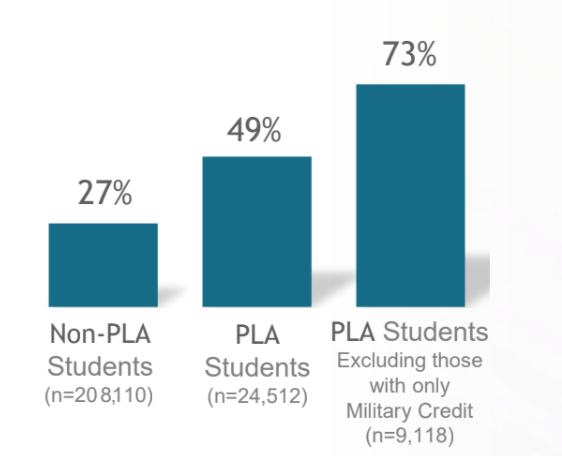 Students with PLA also saved time and money in earning their degrees. And, it wasn't just students who benefitted: in addition to the graduation benefits, institutions also benefited since adults with PLA credit took 17 or more course credits from the institution, compared to adults without PLA credit.

Review a one-page summary, a longer Executive Summary, or the full report and appendices. There are two additional research briefs co-authored by CAEL as part of a series of 12 research briefs in WICHE's landscape study of PLA.

Would you like to explore your options for implementing PLA at your institution? Contact CAEL to schedule a discussion.
Download Research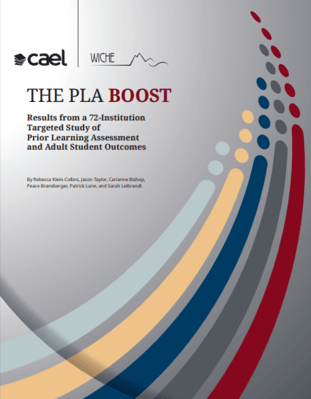 The PLA Boost: The Full Report
Executive Summary
Appendices
The PLA Boost: Fact Sheet
Recognition of Prior Learning in the 21st Century
Recognizing Prior Learning in the COVID-19 Era
Press Release
Webinar on PLA