New Research from CAEL and a New Framework for Creating Adult Learner Leaders for Institutional Effectiveness (ALLIES)
by CAEL on Oct 10, 2022
CAEL received funding in 2021 from William & Flora Hewlett Foundation, the Strada Education Network, and the Charles Koch Foundation in support of new research on the needs of adult learners. Core project activities included:
Interviews with currently enrolled or recently graduated adult learners
An examination of 10 high-performing programs serving adults
A review of existing research on effective practices to meet adult learner needs
A survey and focus groups of adults who have never enrolled in postsecondary education
Consideration of lessons from CAEL's most recent work with adult learner-serving institutions, including consultation with CAEL staff and other subject matter experts
On-Demand Webinar on the New ALLIES Framework
Our research work also included a companion project with a deep-dive review of the results of a national survey of more than 2,000 'never-enrolled' adult learners and individual interviews. The objectives of this study were to:
Uncover the factors that lead to an adult's decision to explore postsecondary education.
Understand how adults research and select postsecondary programs.
Identify the reasons why some prospective adult learners do not follow through with the application and enrollment process.
KEY FINDINGS
The primary research revealed several important themes and insights about the needs of today's adult learners for successful postsecondary experiences:
Affordability. Adult learners are highly cost-conscious; financial factors are often central to enrollment decisions.
Career Connections and Relevance. Professional growth and development is a primary motivator for enrollment.
Academic Empowerment. Adult learners seek institutions that recognize their complete experience and provide opportunities to manage their own progress and development.
Student Support. A range of support services is critical for student success, particularly at the front end of an adult learner's journey.
Diversity, Equity, and Inclusion.

Adult learners embody multiple roles and identities in their lives; institutional systems and structures may perpetuate inequities in access and student success.



A NEW FRAMEWORK - ROOTED IN CAEL'S LEGACY TEN PRINCIPLES FOR EFFECTIVELY SERVING ADULTS
In recognition of an evolving postsecondary environment, and from the outcomes of this work, a new framework emerged. CAEL developed the 'Adult Learner Leaders for Institutional Effectiveness', or ALLIES, Framework, to provide guidance on best practices that effectively meet adult learners' needs within today's learning and labor market environment. Included are a series of planning and operational domains for institutions to more effectively support adult learners. The ALLIES Framework represents an evolution from the original publication of CAEL's Ten Principles for Effectively Serving Adults. Going forward, the ALLIES framework will guide CAEL's work with institutions in the future, and the Framework will inform new tools and resources for our members and partners.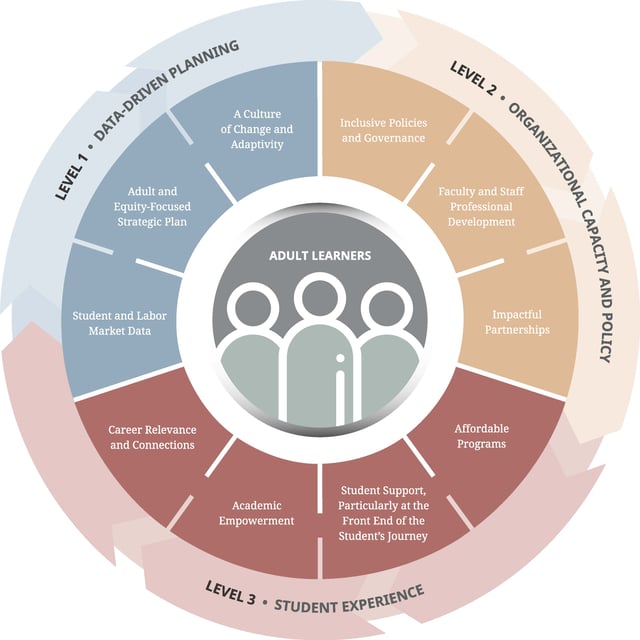 For assistance in ensuring your institution is positioned to effectively support adult learners, reach out to our team today.
CAEL's president Earl Buford discusses the new ALLIES Framework in this exclusive video:
Download Research
Click on the links below to review an executive summary, or the full report and appendices, including a closer look at the high-performing programs at the study's participating institutions. You can also download CAEL's report that focuses on the research on adults who recently considered postsecondary education, but ultimately chose not to attend.
Executive Summary "Never-Enrolled" Companion Research Report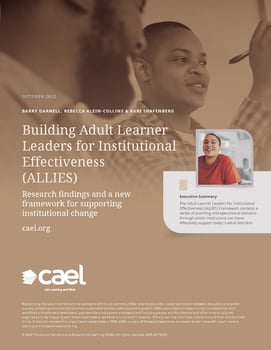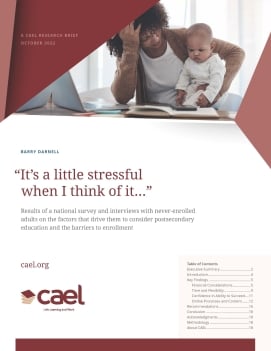 Building Adult Learner Leaders for Institutional Effectiveness (ALLIES) - Full Report
It's a little stressful when I think of it "Never-Enrolled" Companion Research Report