New CAEL Study Asks the Question: Do PLA Methods Matter?
by CAEL on Mar 05, 2018
That is a good question! Adult students earning credit through prior learning assessment (PLA) have higher rates of degree completion than non-PLA students. PLA can also be a valuable tool in helping adult students save both time and money towards earning a degree. But what about the specific method of PLA - is there a relationship between it and degree completion? Do we find there to be better outcomes for students using portfolio assessment as opposed to other methods? Our new report, Do Methods Matter? PLA, Portfolio Assessment, and the Road to Completion and Persistence, shares evidence that there may be one but acknowledges the complexities (and confounding factors) involved in this question as well.
Our new study reviewed the academic records of over 26,000 adult students who attended one of four Featured Network Institutions during the period in which the colleges participated in CAEL's LearningCounts. We examined degree completion rates and persistence patterns for students without PLA credit and compared them to students with any PLA credit --- but went even further to see if there were notable patterns linked to the particular method of PLA that was used. While the overall findings show positive academic outcomes for students with PLA credit, we also found that some methods of PLA (particularly portfolio assessment and standardized exams) may be associated with higher degree completion than others.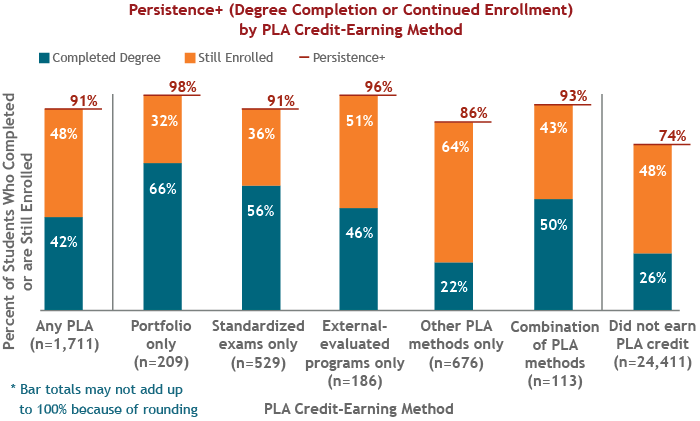 Of course, more studies are needed to examine this question using a longer time horizon than we had, and to control for various student characteristic that may well be playing a strong role in the outcomes that we have seen Also, it's important to note the overall finding, which is that methods don't matter all that much --- on average, any method of PLA is associated with better students outcomes. So, maybe it's not all that important to quibble about the method!
CAEL has been a leading advocate and researcher for prior learning for decades. Do Methods Matter? adds to what has become a growing body of research that demonstrates the value of PLA for both students and the institutions that serve them. In particular, PLA has proven to be an effective tool for the adult learner to complete their degrees by giving value to what they already know and can do.