Back to all
Q&A With CAEL Staff: VP of Innovation Genevieve Feliú
The synergy of diverse collaboration powers CAEL's progress. That goes not just for our myriad external stakeholders but for the internal work of CAEL personnel. By working together, we amplify the impact any of us could have alone. But it's also important to celebrate the individuals who comprise that collective progress. That's why sharing the many success stories of our members and other partners will always be a priority. And it's why we are asking members of the CAEL staff to share their unique perspectives through a brief Q&A. We begin with Genevieve Feliú, Ph.D., who joined CAEL earlier this year as vice president of innovation.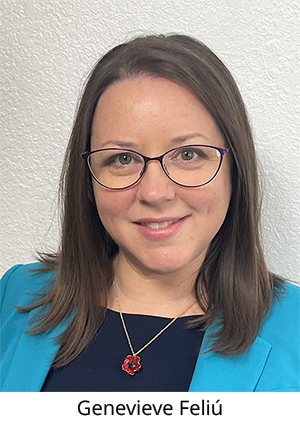 What's your favorite example of CAEL's impact (or how do you define success for CAEL)? I am a fan of the Credit Predictor suite, which includes Credit Predictor Pro and a complimentary version of the product available exclusively to CAEL members. Not only did CAEL recognize the need for a credit for prior learning framework to guide a more precise recognition of what adults bring through their experience(s), CAEL went a step further and designed a product to help scale the idea of CPL. This is an excellent example to me of the ecosystem mindset: If we really want to resolve the many gates and friction points adult learners and their supporters encounter, then we need to close the loop completely. So beyond a framework, CAEL decided to build a tool to support CPL at scale. This constituent-focused approach emphasizes that CAEL is here to create economic mobility by digging in and creating tools when necessary. I believe an organization with this combination of mindset and practical problem solving can tackle and solve the really big challenges in sustainable ways.
What drew you to CAEL?
I'm passionate about this level of innovation we need to build to support an evolving work-learn-grow ecosystem. CAEL understands aligning learning and work is a complex challenge to solve, with a solution even more complex to implement at scale. Sustainable innovation in this space relies on partnership, knowledge sharing, and fearless collaboration. CAEL is well established in this area, and I am particularly interested in the depth and breadth of partners CAEL maintains. I believe in CAEL's mission and, even more importantly, I believe in CAEL's ability, as an inclusive and collaborative membership organization, to succeed in that mission.
If there's one piece of advice you could give adult learners or one piece of advice you could give to institutions/organizations committed to better serving them, what would it be?
I say this at least once a day to myself-- "I am not the user." No matter how much I may know or what my personal experience may have been, I do not know others' daily experiences, challenges, or needs. Nor do I know what ideas or creative approaches they might suggest--unless I ask. It is worth your time to understand the fullness of the adult-learner-employee experience. Ask your end user, listen to what they say, and bring the adult learner to the table to help you innovate and meet that need.
What gives you the most hope about the future of the adult learner ecosystem?
I see nothing but opportunity in front of us. We have unprecedented access to technology, nearly unlimited knowledge, and a learning industry that recognizes it is in a state of disruption. This combination gives me great hope that we are in a place where we can 1) understand learning in a new way to 2) build accessible paths and approaches so 3) we can include more people than ever before in the economy evolving before our very eyes. I hope we will look back on this period with satisfaction that we leaned into the opportunity to find a new and more accessible way to create paths to economic mobility.
What is the last book/movie you read/watched?
Last movie was Nope. I highly recommend it; I am a big fan of Jordan Peele's worldview and work. He really makes you question your own perspective in powerful ways.
Last book was Think Again by Adam Grant. I have always been fascinated by how people take in, organize, and retrieve information. We have so many different ways of looking at things, it's always helpful to return to the root of how different perspectives work. For me, as a people-centered innovator, always reminding myself that people go through the act of thinking in different ways helps me lead more inclusive innovation with teams.
What do you enjoy doing outside of work?
I love the great outdoors. I am based in northwest Montana, so I hike, ski, bike, and paddle my way through all 4 seasons.