Fall/Winter 2021 Newsletter
by CAEL on Dec 14, 2021
CAEL 2021 Annual Conference Was Most Supported Ever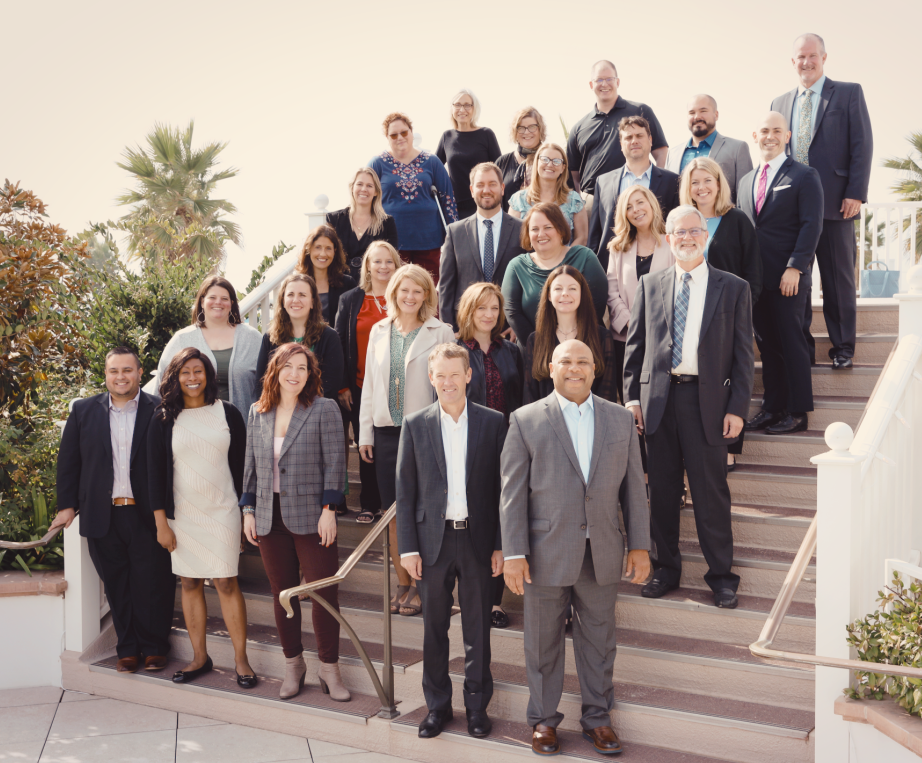 CAEL's annual conference offered many reasons to celebrate. The event, which ran Nov. 17-19 in San Diego, was the 47th in the series. This lengthy run is the latest reminder of the diverse CAEL community's unity around linking learning and work and of the perennial importance of that mission. The conference also marked a return to hosting in-person events, while also offering virtual access in our first-ever hybrid conference. We are so proud of our record number of registrations sold, which directly support our nonprofit work to engage with our member, educators, employers, and community leaders to support long-term career success for adult learners.
Attendees represented approximately 250 postsecondary education providers and 115 other organizations, including nonprofits, businesses, and governmental agencies. Our presenters were featured in more than 150 workshops across 8 tracks. CAEL is grateful for the support we received from our attendees and sponsors, especially co-sponsor Strada Education Network and our local sponsors, National University and San Diego Workforce Partnership. We look forward to seeing everyone next year in Chicago, November 16-18, 2022!
Did you miss the conference? CAEL members can get on-demand access to all conference video content for only $100 ($300 for non-members for access through Feb. 15). For more information, click here.
CAEL Follow-Up Report to "The PLA Boost" Sheds New Insight About Credit for Prior Learning Equity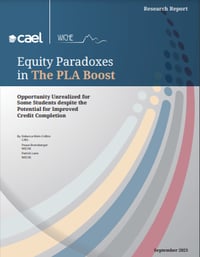 As CAEL previously reported, students who receive credit for prior learning are far more likely to complete a postsecondary credential, and they save time and money in their educational pursuits. Unfortunately, that report also found that Black students, Pell Grant recipients, and students who live in lower-income communities are least likely to participate in programs that award such credit. In October, CAEL released a report offering new analysis on why this may be. The report also provides actionable recommendations for postsecondary institutions to ensure PLA/CPL programs are available and accessible to all adult learners.
CAEL Awarded Additional Grant Funding for Research Guiding Foundational Improvements in Adult Learning
Grants from the Charles Koch Foundation and Strada Education Network are providing new funding for CAEL's research and design of a modern Framework for serving adult learners. Additional partners for the initiative, which was announced in May, include the Education Quality Outcome Standards Board (EQOS) and Northeastern University's Center for the Future of Higher Education and Talent Strategy. The Framework will help postsecondary institutions and systems better meet the needs of adult learners within today's digitally dependent education environment and skills-focused labor market. Guiding the Frameworks approach is a collective vision of a new learning ecosystem sustained by dynamic links between learning and work, new forms of credentialing, and much-needed equity imperatives. The latest funding will enable specialized research on barriers that adults who have never enrolled in postsecondary education face.
EPCE Update
CAEL's industry-education initiative, the Energy Providers Coalition for Education (EPCE), co-located its annual meeting with the Experience Power Conference in San Antonio on Oct. 18-21. EPCE members collaborate on workforce education and development solutions to transform individual efforts into holistic industry-wide solutions on a national scale.
EPCE has a longstanding partnership with the Experience Power Conference, and CAEL's Angie Lucas, director of EPCE, participates on the conference advisory board. The EPCE Coalition Meeting provided an opportunity for EPCE members and education partners to discuss, network, and learn relevant ideas to support initiatives that develop, educate, and train the energy industry's workforce.
Among the meeting's highlights was a session on building and supporting the emerging electric vehicle (EV) workforce:
EPCE Governance Committee members Jim Auld, director of external training initiatives for NextEra Energy/Florida Power & Light, and Deanna Myers, senior manager of training and organizational change for Sargent & Lundy, hosted sessions.
Jim Auld discussed NextEra's EV initiatives and the need for developing electric vehicle certification standards and testing. He also explained how industry stakeholders and postsecondary education institutions, including EPCE's founding education partner, Bismarck State College, are collaborating to meet those needs.
Deanna Myers discussed innovative practices in enhancing internal training with EPCE's external education resources.
EPCE education partners Bismarck State College, Excelsior College, and Worcester Polytechnic Institute discussed ways companies can invest in their employees by utilizing EPCE's education and training programs.
CAEL's Christine Carpenter, senior vice-president of engagement, presented information on CAEL and Strada Education Network's work in aligning industry education pathways for the future of work.
Also during the meeting, Angie moderated a panel discussion on ways to support employees' career pathways during the various shutdown phases of energy plants throughout the country. And Christine presented on employee skills training to support the next generation of energy industry employees.
CAEL Co-Authors Report Highlighting Academic Programs in Kentucky That Support Minoritized and Low-Income Students
CAEL partnered with Emsi and the Kentucky Council on Postsecondary Education (CPE) on a report identifying effective educational pathways for closing achievement gaps for traditionally disadvantaged students in the Commonwealth of Kentucky. Along with reviews of student, faculty, and staff interviews, the report's analysis covered post-graduation earnings data from more 140,000 students who graduated in Kentucky between 2008-2020. In a press release the CPE noted that the report "identified 29 baccalaureate, associate and certificate/diploma degree programs that prepare underrepresented minority and low-income students for successful careers with equitable earnings."
Earl Buford and Larry Good Co-Author Op Ed on Workforce Development
As much as we all would have preferred a quick fix to the pandemic, the road to recovery has been a journey of peaks and valleys. We need to take the long view when it comes to addressing labor market challenges as well. In a September op ed appearing in "The Hill," CAEL President Earl Buford and Larry Good, president and CEO of Corporation for a Skilled Workforce, explain that continual investments in workforce developments will be needed to stay ahead of evolving economic challenges and opportunities.
Latino Adult Student Success Academy Updates
CAEL Member Florida International University Featured in LASS Video
A new video overview of CAEL's Latino Adult Student Success (LASS) Academy includes the perspective of an FIU graduate and members of the university staff. Watch the video here.
CAEL Highlights Outcomes of LASS Academy in New Report:
The Latino Adult Student Success Academy: Using a Collaborative Approach to Transform Disparate Data Into Sustainable Solutions is a recently released report that reviews progress 15 postsecondary institutions made in creating a more data-driven culture by establishing processes for collecting and disaggregating such data to inform programs and services in the long run. Positive trends in Adult Learner 360 diagnostics, average credits completed by adults and Latino adults, and other key student success metrics also emerged during the three-year effort.
Matt Waltz Joins CAEL As Vice President of Partnerships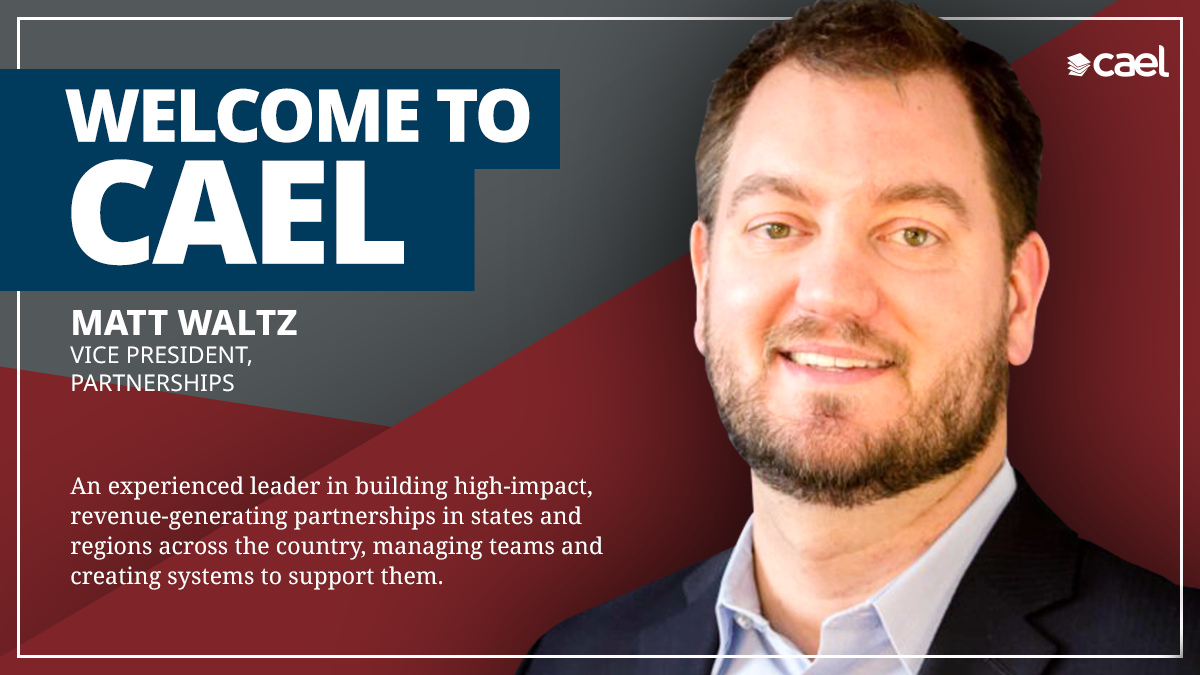 In August, CAEL welcomed Matt Waltz as vice president of partnerships. Matt is an expert in developing high-impact, revenue-generating partnerships that benefit adult learners through education-to-career strategies and cross-sector collaboration. His previous leadership roles, which span the nonprofit and corporate sectors, also include frequent, mutually beneficial engagement with local, state, and federal agencies.
CAEL Joins Workforce Discussion With Federal Reserve Banks, WorkingNation
In September, which was National Workforce Development Month, CAEL and other thought leaders in education, workforce development, philanthropy, and business engaged in #InvestInWork, a Twitter chat on helping workers advance within rewarding careers. The Federal Reserve Banks of Atlanta, Philadelphia, and Kansas City, Fed Communities, and WorkingNation hosted the event.
Congratulations to Our Annual Award Winners!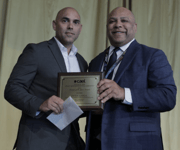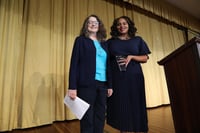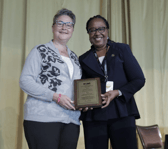 The following received awards at CAEL's 2021 conference, held in San Diego:
Learner of the Year Award: Javier Garcia
Adult Learner Impact Award - the University of Nebraska at Omaha
Morris T. Keeton Award: Marcia Anderson
Pamela Tate Rise Award: Dr. Su Jin Gatlin Jez
You can read more details about the award winners in The EvoLLLution.
Membership Updates
Welcome Newest CAEL Members
We would like to extend a sincere welcome to those who joined us in September and October, 2021:
Twenty-nine institutions/organizations/systems:
University of Colorado at Denver, Equus Workforce Solutions, Missouri Southern State University, Casper College, Keuka College, Forsyth Tech Community College, Ngee Ann Polytechnic, International College of Health Sciences, Bloomsburg University, California University, Cheyney University, Clarion University, East Stroudsburg University, Edinboro University, Indiana University, Kutztown University, Lock Haven University, Mansfield University, Millersville University, Shippensburg University, Slippery Rock University, West Chester University
Seventeen individuals representing the following institutions:
CSUCO, Broward College, Saint Elizabeth University, Penn Foster College, Métier Education, WGU Academy, Sagacity, LLC, Coronado Adult Education, University of Regina, Grand Valley State University, Tarbut V'Torah Community Day School, Penn State, Oakland Community College, Kirkland Harvesting, Inc., Central Michigan University, Palo Alto College /Alamo Colleges, Harper College
For a full list of CAEL affiliate and postsecondary institution and system members, please visit our website: https://www.cael.org/membership/our-members.
We look forward to staying in touch!
Show the World You Care About Adult Learning With Your CAEL-Branded Seal
As a reminder, CAEL members can now access a new CAEL-branded seal and logo to reflect your and/or your institution's or organization's membership in the CAEL community and commitment to adult learning in emails and other external engagement. See below for examples (thank you to Athens State University for sharing). To receive your CAEL Seal, please fill out this form.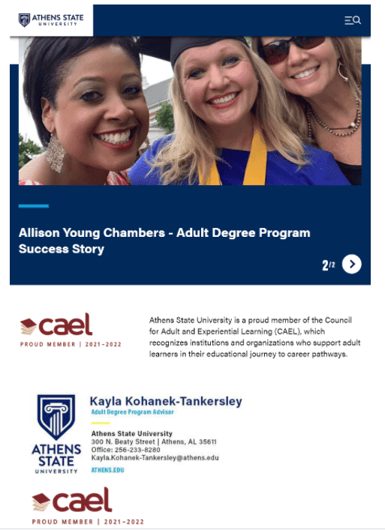 Recent CAEL Appearances
| | | |
| --- | --- | --- |
| Date | Event | CAEL Involvement |
| 8/9 | Kickoff Meeting of Indiana PLA Statewide Taskforce | Beth Doyle, Ed.D and senior vice president of initiatives, solutions, and operations; |
| 8/9-11 | | Earl Buford; Jack Mills, senior vice president of partnerships, impact, and insights |
| 8/19 | CAEL webinar: Three Ways to Maximize Your Support for Adult Learners With Relief Act Funds | |
| 8/23 | American Public Human Services Association Economic Mobility and Well-Being conference | Matt Waltz, vice president of partnerships |
| 8/24 | Women and People of Color in the Trades - Rethinking Career Paths | |
| 8/30-9/1 | Economic Development Research Partnership (Part of IEDC) - Research Retreat | |
| 9/14 | Indiana PLA Statewide Taskforce Meeting | |
| 9/15 | Alliance for Veterans in Higher Education (AVHE) Fall Symposium | Dr. Amy Morys, military prior learning assessment practitioner |
| 9/20-21 | National Council of State Legislatures (PLA presentation) | |
| 9/20 | The Association of Public and Land-grant Universities "Partnerships for Adult Learner Success" Initiative (Lumina) kickoff event: CPL and adult student landscape | Wilson Finch, vice president of initiatives |
| 9/28-30 | Wisconsin Economic Development Association annual conference: Keynote and Session | |
| 10/3-6 | International Economic Development Council | |
| 10/6 | CECU "Art and Science of Adult Learners" webinar | |
| 10/6-7 | | |
| 10/7 | | |
| 10/10-11 | Student Affairs Administrators in Higher Education - Vice Presidents for Student Affairs | |
| 10/11-13 | HERDI (Credit Predictor Pro) | Dr. Scott A. Campbell; Kristen Himmerick, senior director of solutions |
| 10/12 | Veterans Higher Education Affinity Group Fall Convening | Rafael Pasillas, Amy Morys |
| 10/18-20 | | |
| 10/20-22 | Independent Sector | Carol Erickson senior director, foundation partnerships |
| 10/22 | Midwest Urban Strategies Fall Convening | |
| 10/27 | Oakton College - All-College Learning Conference | |
| 11/2-4 | | Christine Carpenter; Jeannie McCarron, senior director of member engagement |
| 11/7-9 | American Association of State Colleges and Universities Annual Conference | |
| 11/7-10 | | Doug Heckman senior director of partnership development |
| 11/8-11 | | |



Recent Blog Posts and Other Articles With CAEL
Prepared Remarks From Earl Buford's Welcome Address at CAEL's 47th Annual Conference
DCS Receives 2021 Adult Learner Impact Award
Union alumnus named national CAEL Learner of the Year
CAEL Partnering with InsideTrack to Support Waubonsee Community College
4 Ways To Build Better Education-Workforce Partnerships
Adult Learning Lit Review: Framework Findings and Next Steps
Adult Student Success Story: Susan Fenwick
Competencies Alone Are Not Enough: The Tools that Put Competencies to Work
From Degrees to Competencies: What A Shift to Competencies Could Mean for Employers and Students
Digging in The Competency Sandbox: Is Our Postsecondary System Ready to Play?
Competency Transparency in our Postsecondary Systems
How PLA/CPL Equity Can Nourish Our Social Justice Roots
How Can Institutions Address the Equity Gap in PLA/CPL Credit Receipt by Adult Learners?
The Reskilling Revolution: Fueling the Post-COVID Recovery
How to Have Distance Learning Without Feeling Distanced
Why Online Learning Can Create Equitable Access to "The Great Equalizer"
Maximizing Federal Relief for Adult Students
We Wanted To Increase Use of PLA/CPL, So We Stopped Charging for It
Urban or Rural - Supporting Student Veterans Wherever They Live
A Gold Medal Workforce Investment for a Gold Medal Economy