Fall 2022 Newsletter
by CAEL on Oct 31, 2022
It's Not Too Late to Register for CAEL's Annual Conference!
There is still time for you to register to join us (virtually or in person) next month at the beautiful Palmer House Hotel in Chicago. With the conference trending to garner the most registrations ever for an in-person or hybrid CAEL event, you'll have greater networking opportunities than ever before: engage with peers and professionals from workforce and economic development organizations, postsecondary education institutions, and mission-aligned organizations to learn how you can build equitable career and education pathways in your community. We're also on track to have more exhibitors and sponsors than ever, so thank you to all of our attendees, exhibitors, and sponsors!
Register online by Nov. 11 to attend in person (onsite registration is open throughout the conference). Registration for virtual attendance will also remain open throughout the conference.
A 'Principled' Framework for Adult Learner Success
Following a five-phase project that began last year, CAEL has released the "Adult Learner Leaders for Institutional Effectiveness" Framework, or ALLIES Framework, to provide insight on effectively meeting the needs of adult learners within today's digitally dependent learning environment and challenging labor market. CAEL's Principles for Effectively Serving Adults have been restructured within the Framework, which will assume the Principles' longstanding role of guiding postsecondary institutions and state systems committed to an inclusive model of education that meets the diverse needs of post-traditional learners amid ever-shifting education and employment landscapes. You can download the Framework at cael.org along with survey and interview research on never-enrolled adults, which are captured in an auxiliary report.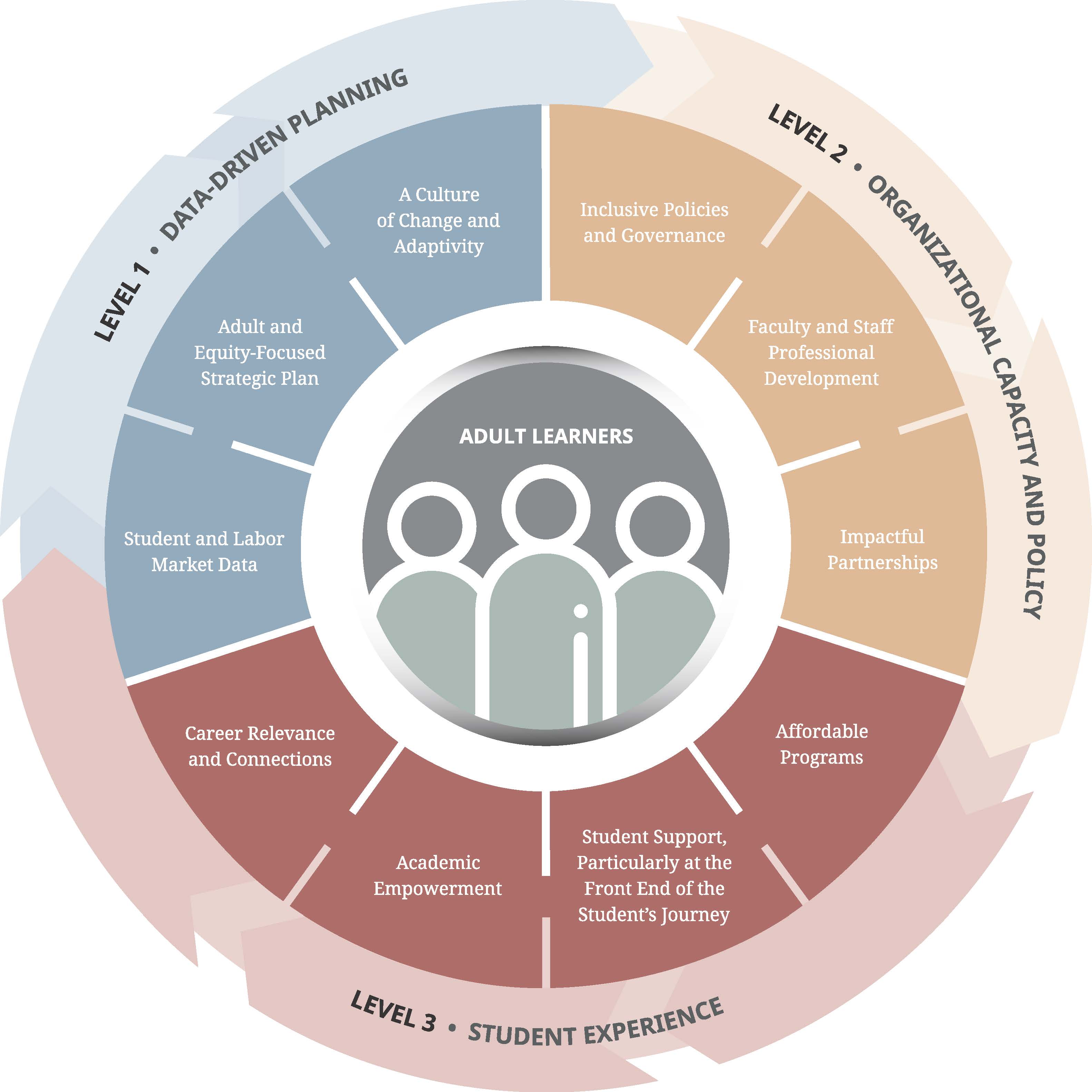 U.S. Department of Agriculture SNAP Employment and Training National Partnership Grant to Fund a Community College Coalition
CAEL's founding fell in the same year that the federal food stamp program was implemented on a nationwide basis. In the 48 years since, there have been numerous intersections among the challenges and benefits of improving food security and equitable access to rewarding career pathways. Thanks to a $1.4 million U.S. Department of Agriculture Supplemental Nutrition Assistance Program (SNAP) Employment and Training National Partnership Grant, those intersecting opportunities are set to increase. During the three-year initiative, CAEL will lead the establishment of the Adult Learner Centered & Equity Framework for Community Colleges in a SNAP Network (ALCEF), a national coalition of 80 community colleges exploring, developing best practices for, and connecting to their local SNAP Employment and Training programs. ALCEF collaboration will increase access to education and training opportunities that improve SNAP program efficiency and equitable employment and earnings outcomes. Opportunities will include exploration and information sessions; assessment, implementation planning, and execution workshops; and advanced strategy capacity building sessions for third party SNAP Employment and Training providers. Institutions interested in participating should contact Robin Farabee-Siers at CAEL at rfarabeesiers@cael.org.
Collaborating for Impact: How Workforce Boards Thrive in Unprecedented Times
You might say Workforce Development Month happens 12 times per year at CAEL, but it's still nice to have an official designation to coordinate and amplify awareness about this perennially important issue. To help mark the month, CAEL released a research brief based on conversations with five dynamic workforce development board directors from across the country. They shared their insight on how to adapt and overcome in the wake of the pandemic and in the face of the evolving changing labor market needs of 2022 and beyond. Download the brief here.
CAEL Receives Funding to Further Support Texas Institutions in the Latino Adult Student Success Academy
CAEL's Academy model is designed to foment the kind of collaborative momentum that persists long after the formal conclusion of cohort activities, a benefit we mentioned in our report about the inaugural cohort of the Latino Adult Student Success (LASS) Academy. Now, thanks to additional funding, from Greater Texas Foundation and Strada Education Network, the Texas delegation of institutions from that Academy are further building on that momentum in a second LASS Academy cohort. Participants include Austin Community College, South Texas College, Texas A&M University-Corpus Christi, and The University of Texas Rio Grande Valley. All are Hispanic Serving Institutions (HSIs).
General Support Grant Supports CAEL Capacity Development in Southwestern Pennsylvania
A new funding partnership between the Richard King Mellon Foundation and CAEL is further boosting CAEL's regional capacity in Southwestern Pennsylvania. The $125,000 operational support grant will help advance CAEL's work to drive economic mobility by building education-employment partnerships vital to key industries such as health care, banking, construction management, and information technology. The partnership follows the recent opening of CAEL's regional office in Pittsburgh (and a Henry L. Hillman Foundation grant, matched by Strada Education Network).
Fund for the Improvement of Postsecondary Education (FIPSE) Update
CAEL is currently conducting site visits with the regional partners of our Connected Pathways program and plans to launch the Exponential Pathways (XP) platform in six sites (Central Indiana; Racine, Wisconsin; Prince George's County, Md.; Maricopa, Ariz.; Cincinnati, and Rhode Island) in December and January. We will pilot the platform over the winter and spring with target users in each region, including college and middle- and high-school students. Connected Pathways is designed to boost the social mobility of Black, Latinx, and other underserved learners across the country by empowering them to make informed choices as they navigate complex educational and career options.
EPCE Annual Meeting Held in Tandem With Denver Experience Power Conference
The Energy Providers Coalition for Education (EPCE) held its annual meeting at the Experience Power Conference in Denver, Co. from Oct. 3-6. Led by Angela Lucas, CAEL director of industry education solutions, EPCE's meeting drew attendees from its growing membership and other professionals responsible for training, retaining, and securing an effective workforce for the vital sector. (EPCE recently welcomed Evergy, Southern Company, LADWP, Cydsa, ODEC, and WSP USA.) Among the highlights of the annual meeting and collaboration with the Experience Power Conference were:
Kristen Himmerick, vice president of solutions for CAEL, moderated a panel at the Experience Power Conference about recruiting and retaining a diverse workforce in the energy industry. She was joined by:
Angela Lucas moderated an industry panel geared toward options for advancing careers in power generation. She was joined by:
In addition, Angela and EPCE Governance Committee member James Auld, director of external training initiatives for NextEra Energy/FPL, participated in a panel discussion on electric vehicles and their impact on the power grid.
Veterans Networks Hold Fall Symposiums
The Veterans Higher Education Affinity Group, or VHEAG, is a collaborative network of professionals representing nearly 40 veteran-serving academic institutions that works to dismantle barriers Chicagoland student veterans face when pursuing a postsecondary education. In September, the group met for its fall symposium, at National Louis University, a CAEL member institution. Meanwhile, the Alliance for Veterans in Higher Education (AVHE), which CAEL formed in 2020, held its fall symposium, at the Illinois State Library. AVHE complements the VHEAG mission through similar supportive collaboration in downstate Illinois.
Coalition Featuring CAEL wins Memphis Region $21.5M Good Jobs Grant
The U.S. Economic Development Administration's Good Jobs Challenge awarded $21.5 million to a regional coalition, headed by Workforce Mid-South, to improve economic mobility, including the founding of three one-stop Accelerated Skills Training Centers in East Arkansas, North Mississippi, and West Tennessee. Nearly 300 employers are joining workforce boards, local government, CAEL, and other organizations in the effort.
Professional Development Update
Our latest cohort of instructor-led professional development began Sept. 12. You can enroll now for classes that begin in February.
Congratulations to the first recipients of our Adult Learner Advocate Badge, which we launched in late August. To earn the badge, which you can feature proudly on your LinkedIn profile, complete all eight of our microcourses, which are available free to CAEL members.
Finally, save the date for our Learning Summit for Postsecondary Education and Workforce Development Professionals Feb. 9-10. Join CAEL and the San Diego Workforce Partnership for their first in-person learning summit in San Diego. The summit will focus on linking public workforce systems with postsecondary education to support adult learners as they navigate on- and off-ramps between education and employment. Stay tuned for more details on how you can join us.
CAEL Signs On to Widen the Path Campaign
CAEL has joined the Higher Learning Advocates' Widen the Path pledge. The initiative advocates for equitable educational opportunities that sustain economic mobility and inclusive student success. You can sign the pledge here.
Welcome to Our Newest CAEL Employees!
Rachel Hirsch, vice president of state strategies and policy relations
Victoria Avramovic, regional industry partnership director
Monique Tuset, director of initiatives
Alicia Myrick, Ed.D., manager of initiatives
Allymyr Atrero, manager of initiatives
Tommy Otterbine, manager of initiatives
Rob Garcia, director of initiatives
Steve Price, director of initiatives
Rick Weber, manager of digital marketing
Recent CAEL Appearances
Date

Event

CAEL Involvement

7/27

Kristen Himmerick, VP of solutions; Carolyn Swabek, director of community engagement

7/27

2022 MEDA Summer Conference - Maryland Economic Development Conference
Agenda

Scott A. Campbell, Ph.D. and VP of partnership development

7/26 - 7/29

Matt Waltz, VP Partnerships; Angela DeVere, manager of membership marketing and events engagement

8/4

Kristen Himmerick; Katrina Douthit, manager of solutions

8/10

Scott A. Campbell, Ph.D.; Wilson Finch, VP of initiatives

8/14-8-17

APHSA Economic Mobility & Well-Being Conference

Matt Waltz

8/17

XPRIZE Focus Group for Select CAEL Members (perspectives on fast-paced programs)

Monique Golden, Technical Lead for the $5M XPRIZE Rapid Reskilling

8/17-8/18

Earl Buford, CAEL president

8/24

John Flanagan, president and CEO of CareerSource Tampa Bay; John Hawkins, CAEL senior director of partnership development

9/8

Veterans Higher Education Affinity Group Fall Symposium

Amy Morys, Ed.D.

9/11-9/13

John Hawkins

9/14

eLumen webinar on Business Case for CPL

Becky Klein-Collins, vice president of impact

9/14-9/15

Christine Carpenter, SVP of engagement; Earl Buford; Matt Waltz; John Hawkins

9/18-9-21

John Hawkins; Matt Waltz

9/20

University System of Georgia - Regents Academic Council - Adult Learners

Scott A. Campbell, Ph.D.

9/21

Alliance for Veterans in Higher Education Fall Symposium

Amy Morys, Ed.D.

9/27-9/29

Earl Buford

10/12-10/14

John Hawkins; Matt Waltz; Wilson Finch; Nico Hall, manager of initiatives

10/13

Introducing CAEL's ALLIES Framework: A Change Management Approach for More Effectively Serving Adult Learners

Barry Darnell, CAEL senior director of higher education initiatives; Kari Shafenberg, CAEL director of initiatives; and external partners.

10/13

National League of Cities Mayor's Education Policy Advisors' Network

Rachel Hirsch, vice president of state strategies and policy relations

10/14

Joint Center for Political and Economic Studies: 2022 Future of Black Communities Summit

Rachel Hirsch

10/18-10/20

Rachel Hirsch

10/20

Kristen Himmerick and external partners
Recent Blog Posts and Other Thought Leadership Articles Featuring CAEL