Spring 2023 Newsletter
by CAEL on Apr 24, 2023
Multiyear, $15.7 Million Grant-funded 'Where It Starts' Program Kicks Off With CAEL as Anchor Partner
With the support of Truist Foundation, CAEL has launched Where It Starts: Build Better Careers, a six-year initiative across Charlotte, Memphis, and Miami to connect traditionally underserved workers and communities to career pathways that advance them within professions and industries where they have been underrepresented, such as financial services (read more).
CAEL Releases Research Report on Short-term, High-value Credentials
CAEL has released, Speed, Value, and Economic Mobility – How Community Colleges Are Developing Short-term, High-value Credentials, a new research report. For the report, Becky Klein-Collins, vice president of research and impact, and Lana Munip, senior research director, interviewed representatives of 10 community colleges that grant non-degree credentials characterized by Speed, Value, and Economic mobility — or SVEs, for short. In contrast with many other types of short-term certificate programs, SVEs are high-quality non-degree credentials that can be completed in one year or less, lead to good-paying jobs in high-demand industries, and can stack into degree programs. These are the ideal kind of short-term program for adult learners and workers who want skills and credentials to access good jobs as a viable alternative to a traditional four-year college degree. Examples of SVEs and how they lead to good jobs and the possibility for future learning and credentialing are many. Two are shown below. The full report is available at cael.org.
CAEL Members Take On CPL Transfer Challenges
When considering the unfortunate underutilization of credit for prior learning (CPL), efforts to better market it often come to mind. But what about when strong candidates for CPL are aware of the practice – yet intentionally eschew it? This can be the case when inflexible transfer policies deter students from pursuing CPL because they know there is a substantial risk the credits won't be recognized at their new institution. Now, a workgroup of CAEL members is taking on the issue of CPL in transfer (read more).
Second Cohort of LASS Academy Meets in Corpus Christi
A group of Texas colleges and universities is building on the success it achieved in CAEL's inaugural Latino Student Success (LASS) Academy. In March, the second cohort, which is made possible by grants from Greater Texas Foundation and Strada Education Foundation, met in Corpus Christi, Texas for the first of two planned in-person convenings. The new cohort includes University of Texas Rio Grande Valley, Austin Community College, South Texas College, and Texas A&M - Corpus Christi, which hosted the meeting.
The convenings are a key component of CAEL's Academy model, in which a group of postsecondary institutions identifies areas of strength and need and takes actionable steps to better serve a specific population on campus – in this case Latino adults. The convenings support the Academy model by strengthening the community of practice of participating institutions, creating a space for institutions to share best practices and findings as they strive toward the common goal of better serving Latino Adult students. During the meeting in Corpus Christi, Barry Darnell, senior director of higher education initiatives for CAEL and the primary author of CAEL's newly released ALLIES Framework, provided the institutions an in-depth orientation on the newly released research. LASS Academy partner Excelencia in Education facilitated a session on examining data to measure Academy impact on the institutions' work in serving Latino adults.
The LASS Academy's participating institutions shared status updates on their work to-date to address one of the Academy's key areas of focus which include:
Driving Latinx Adult Enrollment.
Awarding Credit for Prior Learning to Latinx Adults to Accelerate Degree Completion.
Improving Retention of Latinx Adult Students Through Personalized Coaching.
More information on CAEL's Academies is available at cael.org.
CAEL Announces 2023 Ambassadors
CAEL has named the adult learning and workforce development thought leaders who comprise the 2023 Ambassador program. A volunteer organization for CAEL members, the program brings broad experience and expertise to inspire strategic collaboration among educators, workforce organizations, and employers (read more).
Summary of CAEL's 2022 Research and Other Publications Now Available
Every year, CAEL publishes original research and other content to share established and emerging innovations that drive best practices in adult learner success. It has outlined some key items from 2022 in a short summary document available at cael.org.
Earl Buford Hosts 'Fireside Chat' With Veteran of Civil Rights and Adult Learning Movements
Dr. George Pruitt joined CAEL president Earl Buford to discuss a distinguished career and his leadership in the civil rights and adult learner movements. Dr. Pruitt is president emeritus of Thomas Edison State University and a former executive vice president at CAEL. The recording is available at cael.org.
Adult Learners Take Center Stage in Leading Learner Podcast
Christine Carpenter recently appeared
on the Leading Learning podcast to discuss how CPL, competency-based education, microcredentials, and the broader system of CAEL's ALLIES framework are interwoven within adult learner success.
Connected Pathways Pilot Programs Taking Off
In 2021, the U.S. Department of Education awarded CAEL a nearly $5 million grant to create and pilot a national career-exploration system. The technology solution, Connected Pathways, intends to boost the economic mobility of traditionally underserved secondary students and young adults by empowering them with critical information about education, training, and occupational options. Pilot programs are now underway in six regions around the country: Central Indiana; Rhode Island; Prince George's County, Maryland; Racine, Wisconsin; Maricopa County, Arizona, and Southwestern Ohio (read more).

CAEL Hosts Education-Employment Pathways Learning Summit
On February 9-10, CAEL joined the San Diego Workforce Partnership to host a learning summit. The collaborative retreat focused on how links among public workforce systems and postsecondary education providers can enable education-employment pathways that lead to success for adult learners. About 120 individuals representing nearly 40 colleges, universities, workforce innovators, employers, nonprofits, and other mission-aligned organizations attended the summit, which was sponsored by CAEL member National University (read more).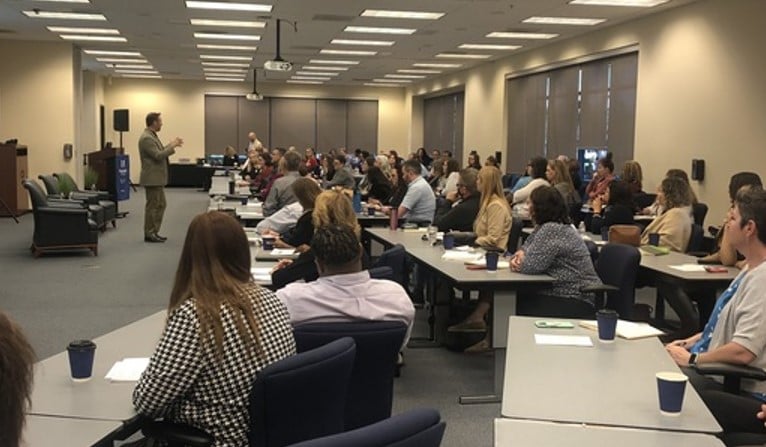 Membership Update
Thank you, CAEL Members, for being a part of our amazing community. Because of your continued engagement, the value of CAEL Membership continues to be recognized, receiving a Best in Class Membership organization award for three years running!
Welcome New Members
We are delighted to welcome our newest CAEL Members, from the following institutions:
American College of Education
Baldwin Wallace University
Blue Ridge Community College
Brunswick Community College
Bushnell University
Cabrillo College
Caldwell Community College & Technical Institute
Carl Sandburg College
Catwaba Valley Community College
College of the Albemarle
Colorado Community College System
Davidson-Davie Community College
Dunwoody College of Technology
Durham Technical Community College
Edgecombe Community College
Everett Community College
Fayetteville Technical Community College
Lenoir Community College
MassHire Greater Brockton Workforce Board
Michigan College Access Network
Morgan State University
New Brunswick Community College
Oregon Coast Community College
Pitt Community College
Poway Unified School District
The University of Tennessee at Martin
The University of Toledo
Umpqua Community College
University of Holy Cross
University of Wisconsin - Eau Claire
Vance Granville Community College
Wilkes Community College
Join a Conversation on CPL!
Are you wondering about, or struggling with, transfer credits and the flow to credit for prior learning?
Are you seeking support in implementing policy or practice in providing credit for prior learning to graduate students?
Are you seeking ways to serve military-connected students in the most effective ways?
If you answered "yes" to one or more of these questions, join the Membership Working Group at CAEL currently discussing this topic with the goal of collaborating on best practices. Discussions will take place regularly by Zoom, and will continue to take place on CAEL's newly updated online community, caelCONNECT. To be included in these conversations, please reach out to us at membershipservices@cael.org
Community Hour: New CAEL Member Benefit Launched!
Our newest member benefit, CAEL Community Hour, launches April 26. The Community Hour offers another opportunity to benefit from new ideas for impact that emerge when our members share their experience and wisdom. Our first meaningful hour for learning and connection, about Leveraging Employer Partnerships, is currently at capacity, but CAEL members can be added to the waitlist by emailing cswabek@cael.org.
Don't Forget: Members Can Earn an Adult Learner Advocate Badge by Completing Our Complimentary One-hour Microcourses!
The Adult Learner Advocate Digital Badge signifies your completion of all CAEL microcourses, and provides you with the opportunity to promote yourself as a CAEL member who has completed this achievement. The Digital Badge can be used in:
Print promotional materials.
Website promotional materials.
Social media.
Video promotional materials.
Resumes.
Email signatures.
Email us at membershipservices@cael.org for detailed information.
Nominate Excellence!
Who are the Unsung Heroes deserving recognition? Who should be recognized for outstanding impact with adult learners? Our national Award nomination process is now open! Don't miss this opportunity to recognize excellence in the field. Also -- be sure to check out our newest award: CAEL's Community Impact Award! We look forward to receiving nominations recognizing stellar examples of education and workforce champions in our 2023 CAEL Conference region!
Speaking of the 2023 CAEL Conference: Mark your calendars! Our early bird conference registration launches in early May HERE. Members get a significant discount on our conference - don't miss out! And thank you to all who submitted conference proposals – 223 in all, a record number. This year promises to be the best yet!
Through the Looking Glass…
Coming soon to your CAEL Member Benefits Suite:
A new toolkit about the learning-to-work ecosystem.
A new toolkit about how to best use your complimentary Credit Predictor Standard tool (institutions, organization, and systems).
A series of Coffees with CAEL focusing on student veterans/military-connected students.
A Coffee with CAEL (August 23) focusing on recent CAEL research addressing college affordability and how adult learners are financing college.
This is just a peek! Stay tuned for the announcement of more benefits and ways to connect in the coming weeks.
Your Membership Benefits Await! All Welcome for a Member Benefits Webinar/Refresher
Whether you are new to CAEL membership, need a refresher of your CAEL member benefits, or are not currently a member and want to learn more: please join us on Wednesday, May 3 at 1 p.m. ET. Click here to register.
Welcome to Our Newest CAEL Employee
Sam Moon, operations coordinator
Recent CAEL Appearances
Recent Blog Posts and Other Thought Leadership Articles Featuring CAEL
What Our Theory of Change Means for CAEL
Join Our Coalition to Improve Access to Regular Employment and Economic Mobility for SNAP Participants
A Commitment To Count All Learning
How Data Is Helping Penn State's Department of Adult Learner Programs & Services 'Walk the Talk'
CAEL's New Peer Matching Membership Program Debuts with Advancing Delta Talent Partnership
Intersect With Earl April 2023
Truist Bank seeking solutions through $22M initiative to break down barriers
A Catalyst for Institutional Change: Embedding Career Relevance and Connections in the Student Experience
Truist Foundation expands minority economic development initiative
Truist Foundation announces $22M initiative to support small businesses, create career opportunities for communities of color
$22 Million Program Unveiled to Boost Small Businesses and Career Opportunities for Communities of Color in Tennessee
Truist Foundation, Living Cities, and Main Street America announce Where It Starts: Breaking Barriers to Business
Truist Foundation launches $22 million small business initiative
Truist Foundation funds small business initiative
Q&A With CAEL Staff: Rob Garcia
At Nashua Community College, This Program Is 'All' About Adult Learners
Transformational Workforce Development Leadership with Walter L. Simmons
Intersect With Earl March 2023
Career Advising Takes Center Stage in Latest CAEL, KC Scholars Work
CAEL Network Expands as Acacia University Joins the Ranks
Widening the talent pipeline for the financial services sector
Intersect With Earl January 2023
How XPRIZE Is Driving Technologies to Uplift the Global Workforce