Summer 2023 Newsletter
by CAEL on Jul 21, 2023
CAEL Releases Research Report on College Affordability and Completion for Adult Learners
How They Pay: The Voices of Adult Learners on College Affordability, and How Institutions Are Responding, the latest research from CAEL, is based on survey and interview data from adult learners and education providers around the country. The report underscores the gravity of nonacademic barriers facing adult workers and learners who aspire to upskill or reskill. The failure of Pell Grant funding to keep pace with the rise in college expenses has exacerbated these barriers, and the report offers several recommendations to help postsecondary institutions and policymakers better support adult learner success. (Read more.)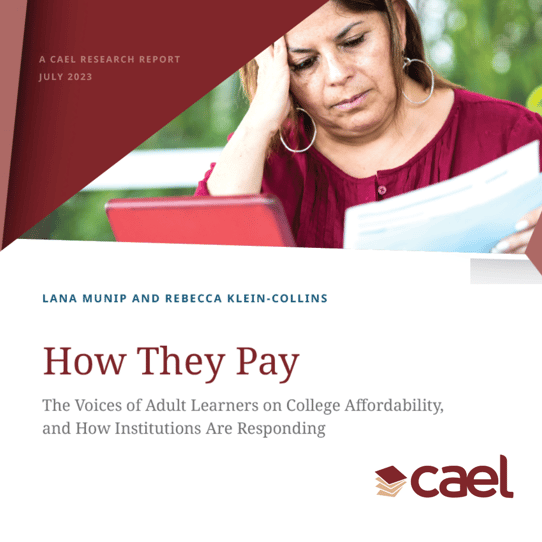 Keynote Speaker Added to CAEL's 49th Annual Conference
CAEL recently announced the addition of Dr. Rhianna C. Rogers, a visionary leader and expert in advancing cultural equity and diversity in education and organizations, to the lineup of distinguished keynote speakers at the upcoming 49th Annual CAEL Conference in Baltimore. Join us Nov. 8-10 for three days of learning, networking, and collaboration with industry leaders, educators, and policymakers. Early bird rates end Sept. 29. Register now at cael.org.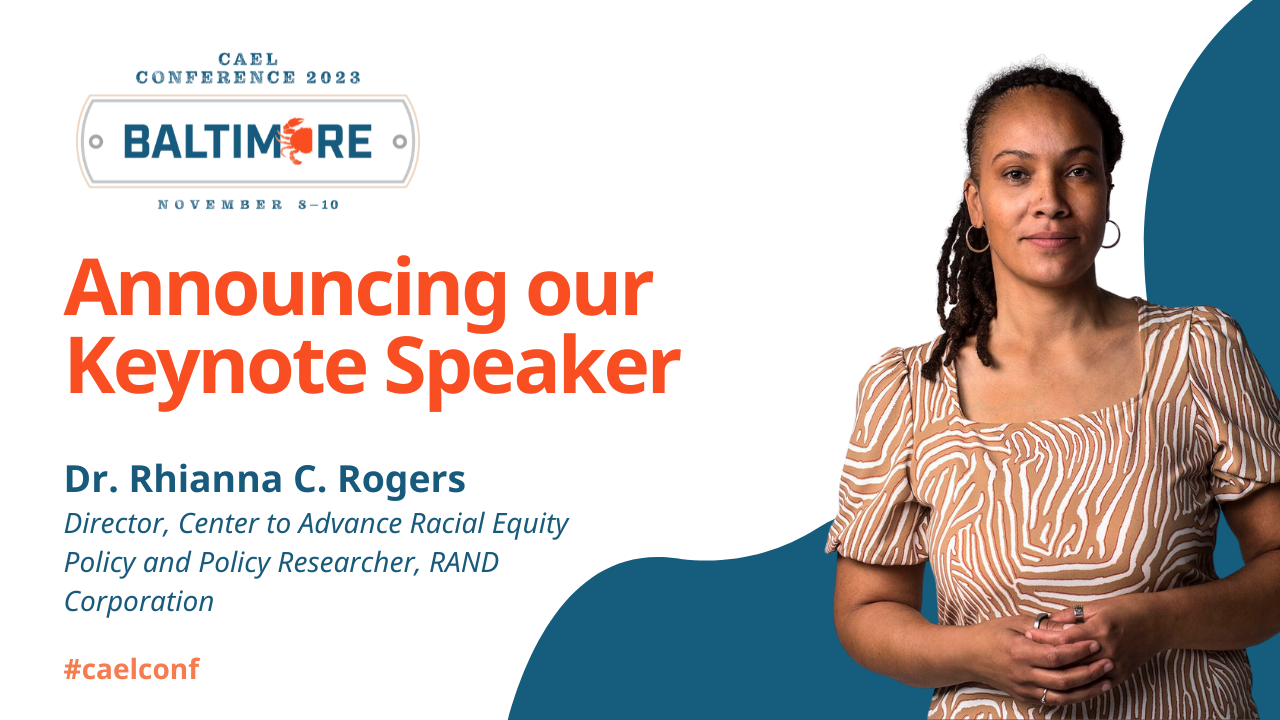 Annual Impact Report Highlights Work of CAEL Community
CAEL's first annual impact report provides a quantitative and qualitative outline of our 2022 accomplishments. Highlights include enhancements of employer talent pipelines, industry partnerships, and regional workforce development programs and the expansion of CAEL's network to include more members representing more facets of the education-employment ecosystem than ever before. Last year, CAEL membership, which encompasses educators and trainers, employers, industry groups, workforce developers, government agencies, and mission-aligned organizations, grew to represent 49 states and a postsecondary enrollment of more than 1.2 million adults (Read more.)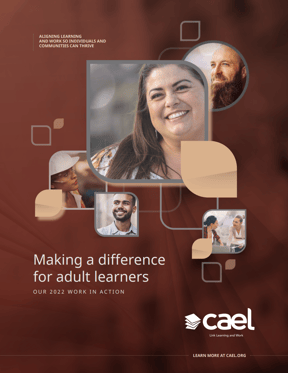 Regional Convening on SNAP Employment and Training Programs
On Aug 7 and 8, CAEL will conduct a free regional convening on SNAP Employment and Training (SNAP E&T) programs in the community college setting. The event will take place in Madison, Wisconsin. Topics will be geared to two- and four-year institutions interested in developing and disseminating best practices for local SNAP E&T providers. They will include:
Overview of SNAP student eligibility.
Connecting students to basic needs.
Partnerships among community colleges and CBOs.
Serving specific student populations.
Intro to SNAP E&T (for colleges new to the program).
Equitable SNAP E&T programs.
Promoting SNAP E&T.
Successful SNAP E&T partnerships in Wisconsin.
General best practices for SNAP E&T.
Register here.
With grant support from the U.S. Department of Agriculture Food and Nutrition Services, CAEL is partnering with Community Colleges across the country, Seattle Jobs Initiative, Grant Associates, and the American Public Human Services Association to introduce more adult learners to SNAP E&T benefits within the community college environment. This national coalition, the Adult Learner Centered & Equity Framework (ALCEF) for Community Colleges in a SNAP Network, focuses on developing and disseminating best practices for local SNAP E&T providers. Visit cael.org for information about how to join ALCEF.
SNAP E&T is a federally funded, state administered program that assists program participants in gaining the skills, training or work experience needed to move towards—and into—employment. SNAP E&T also helps reduce barriers to work by providing individuals with support services – such as transportation and childcare – as they prepare for and obtain employment and job retention services to help them maintain employment.
State Framework Dedicated to 'Transformative Tool' of CPL in Delaware
CAEL was honored to partner with the Delaware Department of Education on the release of its CPL Policy Framework. Offering insight on how to derive CPL from more diverse sources, the framework notes that expanding CPL "could be especially valuable for returning students and those with non-traditional backgrounds." (Read more.)
CAEL Receives Diversity, Equity, and Inclusion Workplace™ Certification
CAEL, has received Diversity, Equity, and Inclusion Workplace™ Certification from Diversity for Social Impact, a strategic professional and organization development company dedicated to promoting diversity and inclusion to drive social impact worldwide. The Diversity Equity Inclusion Workplace™ Certification assesses organizations against a set of rigorous standards and signifies that recipients have created and sustained a diverse, equitable, and inclusive workplace culture. CAEL, along with its partner nonprofit organizations that comprise Strada Collaborative, received the certification via the Strada Education Foundation. (Read more.)
Twenty-one Education, Workforce Leaders Comprise 2023 Advisory Council
CAEL's 2023 Advisory Council provides diverse and distinguished representation and leadership perspectives from throughout the education and employment ecosystem. As the CAEL community continues to expand, the Council will help ensure CAEL' s mission remains aligned with the common causes that unite CAEL's diverse community. The Council's representation includes postsecondary education and training, workforce development, employers, and philanthropy:
Gina Breukelman, senior manager, Boeing Global Engagement
Lewis Brown, vice president, talent management, talent acquisition and DEI, Comcast
Dr. Chris Bustamante, executive director, Arizona Community College Coordinating Council
Tamara Clunis, vice president, academic affairs, Amarillo College
Dr. Alan Davis, president and vice chancellor, Kwantlen Polytechnic University
Mike D'Ausilio, managing director, head of new joiner experience, JPMorgan Chase
Dr. Deborah L. Ford, chancellor, Indiana University Southeast
Dr. Kathi Hiyane-Brown, president, Whatcom Community College
Dr. Christine Johnson, chancellor, Community Colleges of Spokane (retired)
Kimo Kippen, president, Aloha Learning Advisors
Karen Kocher, general manager, talent and learning experiences, Microsoft
Chris Lowery, commissioner, Indiana Commission for Higher Education
Dr. William J. McKinney, advisor for regional campus affairs, Indiana University
Todd McLees, managing director, Innovation Outpost
Dr. Mark D. Milliron, president, National University
Dr. Annette Parker (Chairperson), president, South Central College
Dr. Rich Pattenaude, president emeritus, Ashford University
David Polk, director, Wisconsin Department of Workforce Development
Lisa Schumacher, director of education strategies, McDonald's Corporation
Amanda Wagner, chief operating officer, Employ Prince George's, Inc.
Elicia Wilson, director of operations, GitLab Foundation

Exponential Pathway (XP) Pilot Programs Continue
In 2021, the U.S. Department of Education awarded CAEL a nearly $5 million grant to create and pilot a national career-exploration system. The technology solution seeks to boost the economic mobility of traditionally underserved secondary students and young adults by empowering them with critical information about education, training, and occupational options. Recently, participants in the Southwest Ohio and Prince George's County, Maryland pilot programs spoke to CAEL about how XP has impacted their local learning communities. Topics included how XP is supporting a pivot from a "sit and git" model to experiential, career-focused learning and making career pathways more inclusive.
Institutions Share Latino Adult Student Success Academy Experience
In 2022, CAEL received further funding, from Greater Texas Foundation and Strada Education Network, allowing four Texas-based participants of the inaugural LASS Academy to build upon their momentum in a second, two-year cohort. They include Austin Community College, South Texas College, Texas A&M University-Corpus Christi, and The University of Texas Rio Grande Valley. All are Hispanic Serving Institutions (HSIs). The associate vice president for school and community relations at TAMU-CC shared her experience with the LASS Academy and the impact of academic advising on adult learners. At South Texas College, the director of student engagement and completion services discussed using the LASS Academy to maximize the impact of adult learner communications and case-management strategies.
CAEL Completes 40 Workshops, Three Full-Day Summits in Oregon
Crosswalking sessions, Adult Learner 360 diagnostics, and Credit Predictor Pro implementations were among the activities during more than 40 workshops and two Adult Learner Summits CAEL has completed in Oregon so far this year. These events included individual and group training for faculty, administration, and staff. Conducted by CAEL's Higher Education Initiatives Team, they covered credit for prior learning, policy review, workforce development partnerships, and more. Each activity was based on an analysis of the individual needs of the partner institutions to ensure they delivered learning outcomes that could support success well after the events ended. For information on workshops and other ways CAEL can build institutions' capacity to serve adult learners, contact Scott Campbell at scampbell@cael.org.
Master's Degree Latest Feat for CAEL Learner of the Year
Three years ago, Alphur "Slim" Willock completed his B.S. in computer science from Pace University, a longstanding CAEL institutional member. It was the close of just one chapter of the much bigger story of Slim's lifelong learning. In May, he topped off his bachelor's degree with an M.S. in cybersecurity, the latest testament to what he describes as his "yearning for learning." Slim completed both degrees through the National Alliance for Communication, Technology, Education and Learning (NACTEL), which organizes industry-relevant educational benefits in partnership with Pace University, telecom companies, and unions. (Read more, and watch a video of Slim below.)
New Members Join CAEL Ambassadors
CAEL welcomed three new participants in its Ambassador program:
Elizabeth "E" Cole, director of outreach & partnerships, Rio Salado College.
Shanna Coles, associate director of program development and learner solutions, UNC Charlotte.
Nicole Zampino - coordinator of transfer and degree acceleration, Community College of Baltimore County.
The Ambassador program is a volunteer leadership organization for CAEL members. CAEL is thankful for their generosity in sharing their experience and expertise to increase strategic interaction among educators, workforce organizations, and employers. For information about becoming a CAEL member or Ambassador, visit cael.org or email membershipservices@cael.org.
CAEL To Host First-Ever Member Appreciation Week
As a member organization, CAEL wouldn't be able to advance our mission or deliver impact without our membership community. In honor of this growing network of adult learning advocates, CAEL is hosting the first-ever CAEL Member Appreciation Week, Sept. 11-15, 2023! Join CAEL for a week of connections, learning, and, of course, appreciation. There will be networking, giveaways, professional development opportunities, and more! More details will be shared with members soon. Not yet a CAEL member? Learn more and join today!
Welcome New Members!
CAEL welcomes new individual, institutional, organizational, and system members from the following entities:
Blue Mountain Community College
California Intercontinental University, Inc.
Cedar Crest College
Chandler-Gilbert Community College
Chemeketa Community College
City College at Montana State University Billings
Claflin University
Community College of Allegheny County
Concordia University
Dawson Community College
DePaul University
Detroit Regional Chamber
Estrella Mountain Community College
Flathead Valley Community College
Fresno Pacific University
Gallatin College
GateWay Community College
Genesee Community College
Glendale Community College
Global Skills X-Change (GSX)
Helena College
Highlands College
Jefferson College
Joliet Junior College
Leeward Community College
Linn-Benton Community College
Montana State University Northern
Maricopa Community College System
Massachusetts Association of Community Colleges
Mesa Community College
Miles City Community College
Missoula College
Mount Wachusett Community College
National University
Neumann University
North Shore Community College
Northern Illinois University
Paradise Valley Community College
Performance for Life Consulting
Phoenix College
Portland State University
Rockford University
Scottsdale Community College
South Mountain Community College
The Ohio State University at Newark
Tillamook Bay Community College
University of Montana Western
UNC Kenan-Flagler Business School
United States Naval Community College
University of Delaware
University of the Cumberlands
Valencia College
Western Kentucky University
Welcome to Our Newest CAEL Employees!
Lori Babyak, digital marketing specialist
Christina Gaetano, director, grants & strategic advancement
Le'Shay Guy, director, member engagement
Dylan Knutson, director of fund development and strategic advancement
Misty Monroy, manager of member engagement
Tiese Roxbury, senior director for impact measurement
Sarah Schade, senior director, partnerships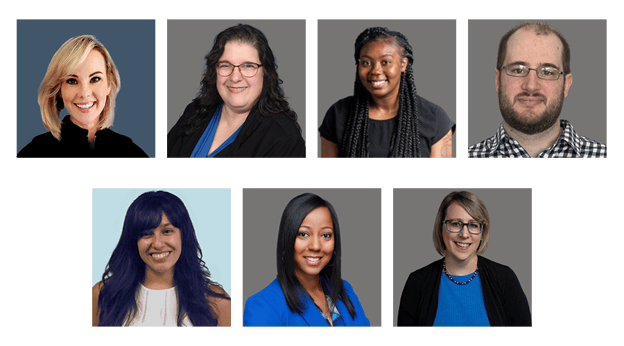 Recent CAEL Appearances
Recent Blog Posts and Other Thought Leadership Articles Featuring CAEL
'Laboratories of affordability' (op ed by Rachel Hirsch)
Hundreds attend chancellor's summit on adult education
Genevieve Feliu, VP of innovation at CAEL, to present at Education 3.0, Yellowdig's learning conference
Why adult learners are the supply chain's ultimate renewable resource
From vicious circle to virtual cycle—how education can transform transformational justice
Listen up! activating voice through CAEL innovation fellows
How to attract, support and retain adult learners
Research shows retention gains through credit for prior learning
How one college used a faculty-led project to connect their students to basic needs resources
Widowed father of six follows up CAEL Learner of the Year and Oprah appearance with master's degree: 'If I can do it, so can you'
XP marks the spot: flexibility and focus meet in Ohio's new graduation requirements
How a global nonprofit is changing the approach to credit by exam
How uniform practices can support the diversity of CPL
Workforce development experts weigh in on how to make apprenticeships work for everyone
Joining the Ambassador program: links between my profession and CAEL's mission
Q&A with CAEL staff: Ashley Faubion
The Latino Adult Student Success Academy and Texas A&M University-Corpus Christi : perspectives from a participant
The Latino Adult Student Success Academy and South Texas College: perspectives from a participant
XP and the exponential power of channeling diverse experiences to clarify complex career pathways
Supporting rural colleges and communities
CAEL members sweep 2023 Aspen Awards