Winter 2023 Newsletter
by CAEL on Jan 17, 2023
CAEL 2022 Membership Numbers and Engagement Were the Highest Ever. Thank you, Members!
We are proud of an amazing year with our incredible membership. Our 2022 highlights include:
More than 3,800 members from 48 states and 4 countries!

Created two new membership options for workforce boards, workforce training providers, economic development organizations, chambers of commerce, employers, nonprofits, and other mission-aligned organizations.

Launched two new member benefits: Mini-Workshops and the Adult Learner Advocate Badge.

Held three Mini-Workshops, with more than 300 members attending live online.

Awarded several Adult Learner Advocate Badges.

Conducted eight Coffee With CAELs with more than 600 members in attendance.

Distributed 51 CAEL Member Seals.

Created online CPL student engagement portals for 29 member institutions through our Credit Predictor Standard technology solution, which is free to members.

Added three new Membership Engagement team members to better serve you, our members.
We are grateful to all of you who have contributed to one of CAEL's best years ever - from growing and engaging our membership, to deepening impact via exciting regional and national initiatives, to our largest annual conference EVER - we couldn't do any of this without the support of you, our wonderful members. THANK YOU!
Thank You for Making Our 2022 Conference the Best Ever!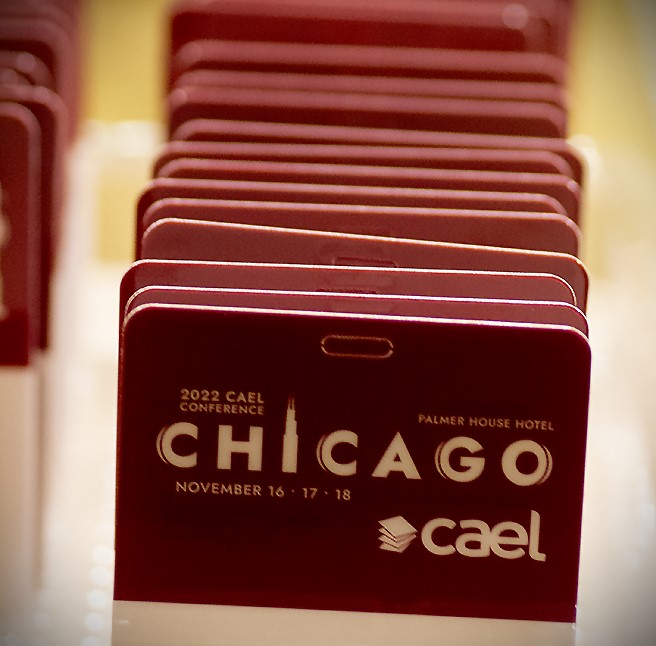 CAEL's annual conference, held in Chicago's Palmer House hotel, was CAEL's most successful ever by several measures. Nearly 1,000 individuals, including 200 first-time attendees, joined us, representing nearly 500 organizations. Just as important, attendees reflected the growing diversity of our membership. In fact, employers, industry groups, workforce developers, government agencies, and mission-aligned organizations now comprise a greater share of CAEL membership than ever before. Their collaboration with education and training providers took center stage during the conference and will continue to do so throughout the year in all corners of the CAEL community. CAEL's 2022 conference success also was supported by the greatest-ever number of exhibitors and, of course, our sponsors. CAEL is grateful for all of the ways you supported this event and looks forward to seeing you later this year in Baltimore! (see below)
How to Submit Presentation Proposals, Annual Award Nominations for 2023 Annual Conference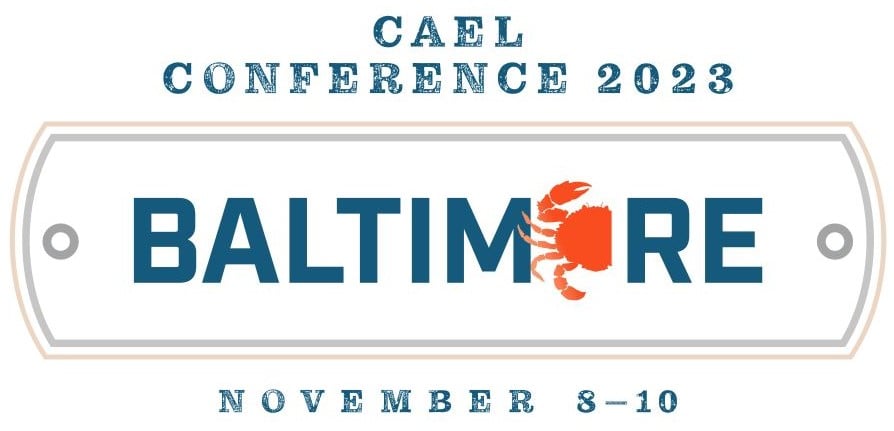 It's never too early to think about what you'd like to present on at our 2023 annual conference, which kicks off Nov. 8 in Baltimore. In fact, submissions must be received by March 31. Watch for an email (sign up here to receive notifications) announcing the opening of the 2023 call for proposals, which will also be posted at cael.org. Nominations for our annual awards will also open soon.
Civil Rights Veteran and President Emeritus of Thomas Edison State University to Join Earl Buford in Virtual 'Fireside Chat'
Dr. George Pruitt was a student protester and activist in the civil rights movement before going on to become the longtime president of Thomas Edison State University. In between, he was an executive vice president at CAEL, which he describes as a movement unto itself. He recently spoke to CAEL for a blog on the publication of his new book, From Protest to President, a Social Justice Journey Through the Emergence of Adult Education and the Birth of Distance Learning. On Feb. 2, he will join CAEL president Earl Buford on Feb. 2 for a virtual "fireside chat" webinar to discuss how adult learning and social justice issues have intersected. You can register at cael.org.
CAEL Membership Offers Discount Registration to Workforce Development Summit

CAEL and the San Diego Workforce Partnership will host the Learning Summit for Postsecondary Education and Workforce Development Professionals from Feb. 9-10. This in-person gathering will convene professionals from education, training, and workforce development to collaborate on strengthening education-career pathways. CAEL membership provides a $200 discount.
Objectives for the Workforce Development and Postsecondary Education Collaborative Summit will include:
Exploring how workforce agencies and postsecondary education partnerships can be the anchor for training initiatives for high-demand skills, as well as meet employer needs.
Examining how these types of partnerships support improving equity for individuals to access education and career pathways.
Identifying and exploring ways to overcome barriers for individuals to access comprehensive workforce education and training programs.
Leveraging talent development strategies:

Work-based learning models involving postsecondary and workforce boards.
Linking sufficient resources so workforce education programs serve the needs of the community.
Linking public workforce systems and postsecondary through credit for prior learning initiatives.
We hope to see you in San Diego!
Grant of Nearly $1.4 Million to Advance CAEL-led Partnership Among Community Colleges, High Schools, and Regional Employers in Mississippi River Delta Region
Thanks to a U.S. Department of Labor Workforce Opportunity for Rural Communities grant, CAEL has formed the Advancing Delta Talent (ADT) initiative. ADT will focus on improving equitable economic development in seven persistent-poverty counties within the Mississippi River Delta region of Arkansas and Mississippi. Central to ADT are two CAEL institutional members, Arkansas State University Mid-South and Coahoma Community College. During the three-year initiative, CAEL will foster collaboration among them, the Delta Regional Authority, local employers, workforce development boards, and other community-based organizations. CAEL's direct institutional support will include our Credit Predictor Pro technology solution along with capacity building in the areas of effective recruiting and retaining diverse students, aligning occupational programs with employer needs, awarding credit for prior learning, hybrid and online learning, and more.
Data Deciphered: Finding Adult Learner Success Stories Hidden in Plain Sight
With so much effort expended on collecting and managing information, postsecondary education is often "data rich, time poor." But this doesn't have to be another example of too much of a good thing. It can be a new opportunity to elevate great things.
In an upcoming webinar, Understanding and Using Your Data on Adult Learners, Barry Darnell, senior director of higher education initiatives at CAEL, and Rachel Dwiggins-Beeler, senior director of services and communications for eLumen, will share proven practices and emerging methodologies that any postsecondary institution can use to identify and leverage pivotal information. They will explain how to transform this seemingly disparate data into the inclusive success stories that are the hallmark of adult learning excellence.
Join us on January 18 at 9 a.m. ET to learn how data insights can help take the story of your impact well beyond the numbers.
SSC White Paper Cites CAEL Research, Describes CPL's Role in Accelerating Credential Completion
South Seattle College has published a white paper highlighting the impact that CAEL-validated principles of adult learning have had in its SBST, Sustainable Building Science Technology, degree program. While credit for prior learning takes center stage, the paper also demonstrates how aligning curricula with current and emerging workforce needs, inclusive programming, and other strategies contribute to adult learner success.
Professional Development Update
Register by Feb. 23 for our latest cohort of instructor-led professional development courses, which begin Feb. 27. They include:
Welcome to Our Newest CAEL Employee!
Ashley Faubion, manager of initiatives, joined CAEL in November. Learn more about her work at CAEL here.
Recent and Upcoming CAEL Appearances
Recent Blog Posts and Other Thought Leadership Articles Featuring CAEL
Dr. George A. Pruitt on CAEL, Student Success, and the Purpose of Postsecondary Education
The Gift of Giving: CAEL 2022 Conference Annual Awards
Two Community Colleges in the South Are Bringing Students Back
Using the ALLIES Framework: A Change Management Approach to Better Serve Adult Learners
Tiffin University to Offer Enhanced Credit for Prior Learning (CPL) Option
Intersect With Earl December 2022
Student Veterans No Longer Filling That Last 10%
Tackling Change: CAEL's New ALLIES Framework as a Change Management Process
CAEL Awarded U.S. Department of Labor Grant of nearly $1.4 Million to Improve Equity in High-Demand Education and Career Pathways in Mississippi River Delta Region
Q&A With CAEL: Apprenticeships — Benefits for Workers and Strategies for Program Designers
Q&A With CAEL: Apprenticeships for Today and the Future
How Prior Learning Can Help Students Accelerate Into the Future of Work
Why Faculty/Staff Professional Development Matters for Effectively Serving Adult Learners
Overcoming Barriers for Adult Learners