Spring 2022 Newsletter
by CAEL on Apr 05, 2022
CAEL Launches Grassroots Campaign to Encourage Uptake of CPL
Rooted in a commitment to support underserved learners, CAEL's work with credit for prior learning (CPL), also known as prior learning assessment (PLA), has the opportunity to make an increasing impact as attention to education equity grows. With the support of Strada Education Network, CAEL has embarked on a national grassroots campaign to encourage greater and more inclusive use of CPL programs. The campaign includes new resources available to institutions at no cost that will help them champion, implement, and promote CPL programs to broaden access to education while helping more students complete credentials more quickly and affordably. Resources and more information are available at cael.org.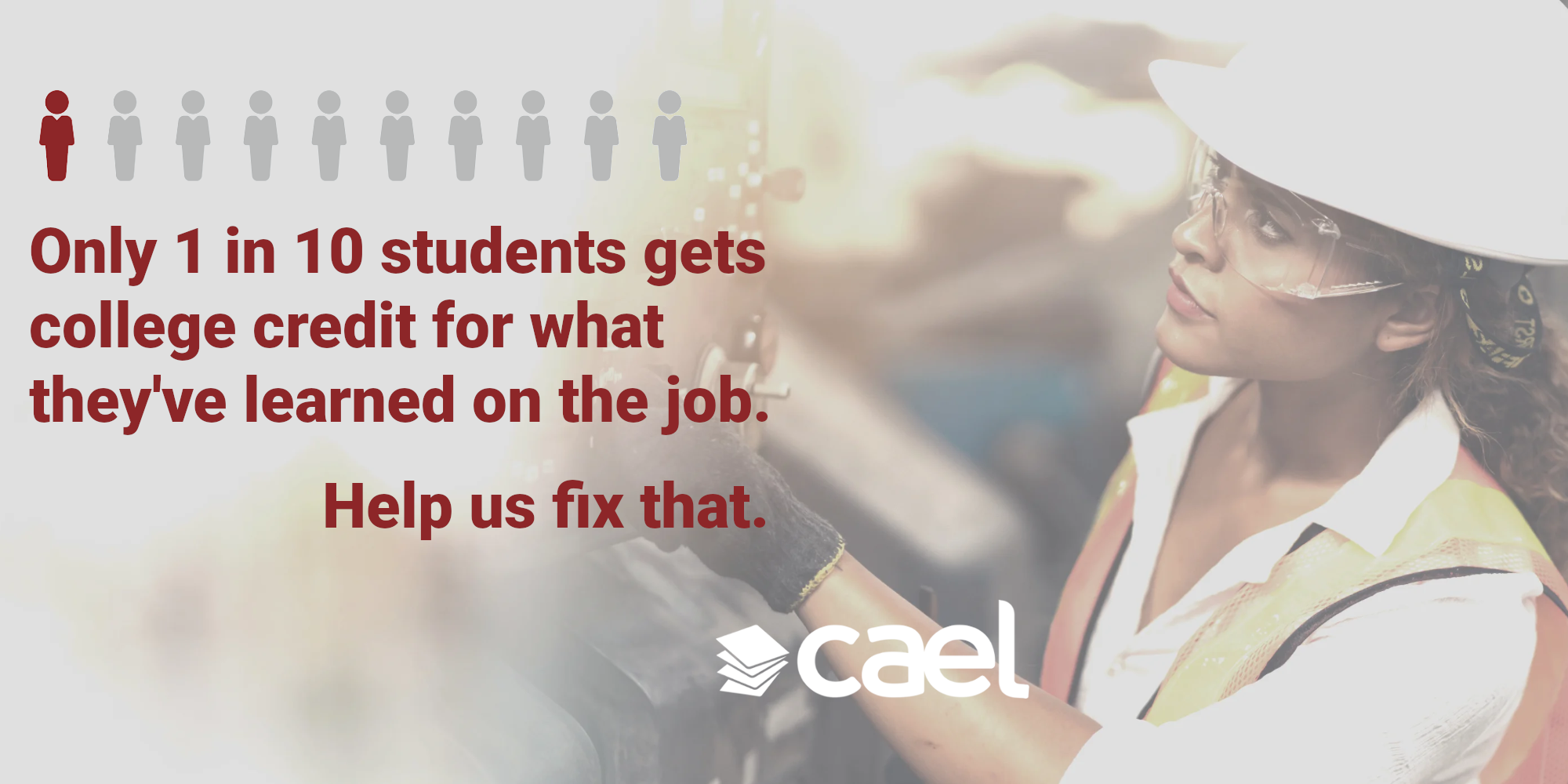 Dr. Gloria Cross Mwase Joins CAEL as Senior Vice President of Partnerships, Research/Impact, and Innovation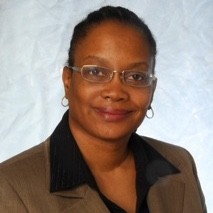 CAEL is delighted to welcome Gloria Cross Mwase, Ph.D., as senior vice president of partnerships, research/impact, and innovation. In this role, Gloria will lead CAEL's innovation-related expansion of resources tailored to the evolving needs of postsecondary education providers, workforce and economic development organizations, employers, and industry associations. She will also set direction for CAEL's efforts to strengthen its research functions, including initiatives to measure and maximize CAEL's impact across the education-workforce ecosystem. Gloria brings valuable experience as a Principal Investigator to CAEL and is also a former adjunct professor at Cambridge College. Her prior experience includes running Mwase Consulting, where she developed partnerships at multiple levels to advance apprenticeships and other strategic talent development initiatives. These included work for the Annie E. Casey Foundation to appraise community efforts across the South and Southwest to increase postsecondary access, persistence, and completion. She also held roles at Project Solutions Incorporated, the Mississippi Community College Board, Jobs for the Future, and the Annie E. Casey Foundation.
Call for Applications: Pilot Program to Support Better Alignment Among Education and Employment in the Tech Industry for Urban Region
Help your adult learners acquire skills they need to help them land entry-level technology jobs as they navigate on- and off-ramps between education and employment in the technology industry! CAEL is partnering with IBM SkillsBuild for Job Seekers (SkillsBuild) to help community college students to acquire the competencies needed for success in entry-level technology jobs. To support this, CAEL will select one community college/program to pilot the implementation of SkillsBuild. The selected pilot community college will receive complimentary access to the IBM SkillsBuild for Job Seekers platform, along with a stipend to help offset any costs associated with implementing the platform. Together with the selected community college, CAEL, with support from IBM, will facilitate collaboration with the institution that will lead to the development of both a business plan for the college and an enrollment funnel for the platform. The ultimate goal is to help the pilot institution's adult learners leverage the skills acquired from their college program and SkillsBuild to attain entry level employment in the technology industry. If you'd like to be considered for the pilot role, please complete this questionnaire by no later than Friday, April 15th. We anticipate announcing the selected program by the end of April 2022 and will provide the selected program an MOU for review and signature, outlining the institution/program's commitment. If you have any questions, please contact CAEL's Director of Initiatives, Rafael Pasillas at rpasillas@cael.org.
Names Matter: Why CAEL Favors CPL to Convey the Value of Prior Learning
No matter what you call it, recognizing and affirming college-level learning that has taken place outside of the classroom is an important way to meet adult learners where they are. In that same spirit, CAEL now uses the term credit for prior learning (CPL) when referencing the various methods, strategies, and programs used to evaluate and assess an individual's extra-institutional learning for the purposes of awarding college credit or advanced academic standing. We have found the term CPL to be more inclusive, more understandable, and more preferable among students. Read more in our announcement at cael.org.
Survey Research Shows That CPL Resonates as a Recruiting Message
New analysis from CAEL, Strada Education Network, and Hanover Research indicates that CPL can be an effective component of recruiting messages. The report, published in February, is available at cael.org.
Research Brief Examines Potential of Degree Reclamation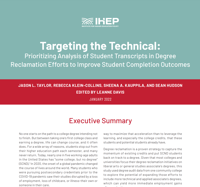 Becky Klein-Collins, vice president of impact for CAEL, coauthored the research brief Targeting the Technical: Prioritizing Analysis of Student Transcripts in Degree Reclamation Efforts to Improve Student Completion Outcomes. The brief, published by the Institute for Higher Education Policy, analyzes Oakland Community College transcript data from a multi-year period when the college applied degree reclamation strategies. The brief outlines how using students' initial programs of study in technical fields to focus transcript reviews and prioritizing transfer-oriented degrees in audits can boost degree reclamation outcomes. You can find the brief at IHEP.
Speaking of Research (and Other Thought Leadership)…
ICYMI (in case you missed it!), CAEL published a number of research findings, articles, blogs, and op eds in the last year. You can find easy access to some of the highlights here.
CPL and CBE: It's Complimentary To Be Complementary
Competency-based education (CBE) and CPL converge in several areas. For example, they both affirm that knowledge, skills, and abilities can manifest outside of a classroom. And they can shorten the distance between learners and their goals. But there are also distinctions. CAEL and the Competency-Based Education Network (C-BEN) have produced a white paper that compares and contrasts the two models and highlights how they can work in tandem to drive career advancement and economic mobility for adult learners. You can download the white paper at cael.org.
Webinar Examines Workforce Opportunities in Infrastructure Spending, Push for Green Jobs
Becky Klein-Collins co-hosted an event with Brookings Metro to review how regional and federal stakeholders can leverage the opportunity of the Infrastructure Investment and Job Act (IIJA) to address needed talent development in the skilled trades and other climate-related occupations. Speakers identified major challenges in implementation, opportunities to test new solutions, and other considerations facing these leaders in the months and years to come. You can view the webinar recording at brookings.edu.
CAEL President Earl Buford Joins College Futures Weekly Twitter Chat
In January, Earl Buford joined #EquityChat, a weekly twitter event sponsored by College Futures Foundation. Earl answered questions about how CAEL's advocacy of adult learners intersects with and supports diversity, equity, and inclusion. Dr. Keith Curry, president and CEO of Compton College, and Dr. Pamela Luster, president of San Diego Mesa College, moderated.
Join a Virtual Book Talk With Earl Buford on April 25
Earl Buford will moderate a virtual book talk with the newly published "Growing Fairly: How to Build Opportunity and Equity in Workforce Development," a book that "offers workforce development reforms that meet the needs of both workers and employers." The event will include co-authors Stephen Goldsmith, Derek Bok Professor of the Practice of Urban Policy at the Harvard Kennedy School, and Kate Markin Coleman, director of ias advising. You can register at hks.harvard.edu.
Fostering a Learning culture Grounded in Diversity, Equity, and Inclusion
In a January 27 CAEL-hosted webinar, participants received expert guidance from guest speaker Laurie Pulido, CEO of Ease Learning, on designing courses and programs for adult learners that utilize pedagogy, technology, and continuous improvement to apply DEI principles that ensure that the needs of all learners are being met. They also received a copy of the Ease Learning Rubric for Equitable Course Design.
Latest Cohort of CAEL Professional Development Classes Begins
CAEL's quarterly cohort of professional development classes launched Feb. 21. Ranging from 3-12 weeks in length and offering synchronous and asynchronous options, the courses include Assessing Prior Learning, Career and Education Advising, and From the Ground up: Building the Foundations of a PLA/CPL Program. Member discounts apply. You can sign up now for either the summer or fall cohort, which begin July 11 and Sept. 12, respectively. On-demand microcourses are also available.
When It Comes to Career Mobility, Stackable Credentials Are All They're Stacked Up To Be
Stackable credentials pave the way forward for adult learners, as they create space for as many educational on- and off-ramps as the learner needs. The destination can be a microcredential, a master's degree — or anything in between. CAEL and Guild Education hosted a webinar to go beyond the 'why' and delve into some ways that colleges and universities are using stackable credentials to open doors to career mobility. The webinar featured leaders from academic institutions that are already practicing effective stackability and offered examples of what these stackable pathways look like in practice and how institutions may be able to implement them to create opportunities for more working adult learners. You can view the webinar recording at cael.org.
Membership Updates
Welcome Newest CAEL Members!
Anderson University • Atlantic Cape Community College • Central Ohio Technical College • Dalhousie University • EdPlus at Arizona State University • Elizabeth City State University • Illinois Valley Community College • Northwest Arkansas Council • Oakton Community College • Rhode Island College • Southeast Community College • Trinity Washington University • University of Louisville • William James College
We'd like to also welcome individuals from the following institutions:
Catawba College • Center of Excellence for Aerospace & Advanced Manufacturing • DePaul University • Ivy Tech Community College • Marymount University • Montclair State University • National Guard Bureau • SUNY Oswego • Santa Fe College • Southern Oregon University • Unified Women's Healthcare • University of Arkansas At Fayetteville
2022 Conference Update
As a reminder, our annual conference is Nov. 16-18 at Chicago's Palmer House Hotel. Once again, we will offer a hybrid format that features a full slate of onsite activities plus robust virtual access. Watch for discounted early registration, which will open in May. The first 100 members who register by June 1 will save more than 25% off of our regular early bird rate.

2022 Awards Nominations Open
Nominate Your Hero
Every year at our CAEL Conference, we honor outstanding work with adult learners. We welcome nominations for our four awards that honor excellence through key lenses in the adult learning experience. Our shared mission prospers when we recognize and encourage individual, organizational and institutional excellence in supporting adult learners. Every day, you see their work in action and no one is more qualified to identify the latest heroes than the CAEL community. Submit your nomination today!
Coffee with CAEL for Members
Did you miss our last Coffee with CAEL, "Credit for Prior Learning: Understanding the Fiscal Impact," held on March 22? Dr. Tyechia V. Paul, assistant professor of management at Fayetteville State University and director of the Broadwell Leadership Institute, explained how she converted her university's credit for prior learning (CPL) intentions from idea to implementation. CAEL members can check out the recording on caelCONNECT or via the CAEL Membership Site. If you have trouble accessing the recording, contact us at membershipservices@cael.org
Please join us for our next Coffee With CAEL later this month, which will focus on serving military (or armed forces) adult learners. Watch for an email with details, which we'll also post on caelCONNECT.
Recent CAEL Appearances
Date

Event

CAEL Involvement

11/22

Indiana PLA Statewide Taskforce Meeting

Beth Doyle, Ed.D and senior vice president of initiatives, solutions, and operations

12/14

Indiana PLA Statewide Taskforce Meeting

Beth Doyle; Rafael Pasillas, director of initiatives

1/26

2/25

Dr. Scott A. Campbell, vice president of partnership development; Christine Carpenter, senior vice president of engagement

2/28

League of Innovations Conference (Streamlining and Tracking Your Credit for Prior Learning Initiatives)

Dr. Scott A. Campbell; Kristen Himmerick, vice president of solutions

2/28

Earl Buford, president

3/5

Dr. Scott A. Campbell; Matt Waltz, Vice President, Partnerships

3/11

American Society for Engineering Education webinar: Policies for Building a Skilled/Technical Workforce for High-Value Manufacturing

3/31

University of Technology, Jamaica
Leveraging Flexible Learning Pathways: The Role of Micro-credentials

4/1

Ivy Tech Community College Student Success Summit

Earl Buford; Chantée Eldridge, Strada chief diversity, equity, and inclusion officer

4/4

4/11

Christine Carpenter; John Hawkins, senior director of partnership development; Matt Waltz

4/11

Dr. Scott Campbell
Recent Blog Posts and Other Articles With CAEL
CAEL announces campaign encouraging increased adoption of credit for prior learning programs at U.S. colleges and universities
How Credit for Prior Learning is Opening Doors to Future Earning for UofL Adult Learners
Prepared Remarks From Earl Buford's Opening Keynote at the 2022 IMS Digital Credentials Summit
Making the Most of the Moment for Our Workforce System
Building CPL Crosswalks to Create Complementary Career Transitions
Great Resignation or Great Revelation? Valuing Worker Experiences
What Never-Enrolled Adults Say Could Transform Their Intentions Into Actions
Making it Stackable: A case study in increasing access and outcomes for learners
The Best of Both Worlds: Supporting Adult Learners through CBE and CPL
Completion with Quality and Value: Why Credit for Prior Learning Stands out as a College Completion Fund Strategy
Harnessing the Infrastructure Investment and Jobs Act to train the next generation of workers
What Adult Learners Say You Can Do To Support Their Success
Great Resignation or Great Revelation? Valuing Worker Experiences
Looking to Amplify Your Advocacy for PLA/CPL at Your Institution? Perhaps Findings on Younger Students Can Help Make a Broader Case for Recognizing Prior Learning
How a Former Foster Youth Is Working To Better the Foster System—and How Archways to Opportunity is Helping Along the Way
Using the Right Terms: Announcing CAEL's Switch from PLA to CPL
COVID and the Great Disappearing Student Loan
Our Foundation Is Our Future: Refining Our Priorities for 2022 and Beyond

Welcome to Our Newest CAEL Employees!
Angela DeVere, manager of membership marketing and events
Trace Downey, contract manager
Robin Farabee-Siers, manager of member engagement
Chris Guidry, vice president for community affairs
Laura Heller, director of initiatives
Darrah Mugrauer, director of initiatives
Brooke Pirmann, manager of events and professional development
Kari Shafenberg, director of initiatives
MissyKaye Shekoski, senior director of planning and strategic alignment
Carolyn Swabek, director of community engagement
Patricia Wallace, senior director of initiatives
Ashley Wilhelm, director of initiatives